Alphabetical By Name
A
B
C
D
E
F
G
H
I
J
K
L
M
N
O
P
Q
R
S
T
U
V
W
Y
Z
Baltimore Assay Marks


View All
Ordway to Oxtoby

Henry M. Ordway
Lowell, MA 1847-1886 Was in partnership with James K. Fellows 1847-1855.

Henry A. Osgood / H.A. Osgood & Co.
South Berwick, ME c. 1845-1857 and
Lewiston, ME 1858-c. 1900 Jeweler.
Was in the business of H.A. Osgood & Co. with son Charles H. Osgood 1875-c. 1900; the business continued into the 1920s.

Oskamp, Nolting & Co.
Cincinnati, OH 1887-1980 Founded by William S.P. Oskamp
and Charles A. Nolting. Incorporated in 1907 as the Oskamp
Nolting Co. Jewelers.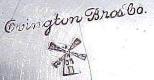 Ovington Bros. Co.
Brooklyn, NY 1846-c. 1930 Importers and merchants.

Owen & Wright
Montgomery, AL c. 1845

Oxtoby & Duffield
Wheeling, WV c. 1868-1878 and Erie, PA 1878-1890
William H. Oxtoby and William C. Duffield. Jewelers.