Eagle to Elliston


Eagle Sterling Co.
Glastonbury, CT 1894-1904
Successor to W.L. & H.E. Pitkin.

Eamco
See Electrolytic Art Metal Co.

Easterling Co.
Chicago, IL  1944-1974
Sold six sterling flatware patterns direct to the consumer; the patterns were made by Gorham.
See flatware patterns.

Eastern Sterling Co.
New York, NY 1940s-Present
Makers of sterling Judaica.
Ebenezer Eastman
Danville, VT c. 1829-1850


Moses Eastman
Savannah, GA 1826-1850
Was a partner in the firm of J. Penfield & Co. in 1826-1828. Upon
Josiah Penfield's death in 1828, Eastman continued the business under his own name.

Seth Eastman
Concord, NH 1826-1880
Was a partner with Robert Davis in the firm of Robert Davis & Co. 1826-1828.
Easton & Sanford
Nantucket, MA 1830-1838
James Easton, Jr. and Frederick C. Sanford.


James Easton, Jr.
Nantucket, MA 1828-c. 1870
Was a partner in the firm of Easton & Sanford 1830-1838.


Eastwood-Park Co.
Newark, NJ  1888-c. 1917
Makers of sterling vanity and novelty items and a small amount of flatware and holloware.

Eaton, Gordon & Bogert
Newburgh, NY 1856-1860
William R. Eaton, John Gordon, and William Bogert.  Produced goods for Ball, Black & Co.  When Eaton retired in 1860 the company was renamed Gordon & Bogert.

Isaiah Eaton
Walpole, NH 1793-1803 and Westminster, VT 1803-1840
Went into partnership with Benjamin Kindrick as the firm of Eaton & Kindrick 1803-1805.

James Benton Eaton (d. 1829)
Boston, MA 1805-1816

Eaves & Nye
Sacramento, CA c. 1857-1862 and Virginia City, NV 1862-1865
William T. Eaves and Emanuel Nye.
Justus A. Wright joined the firm in 1864 and it was renamed Eaves, Nye & Co.; Wright left around Feb., 1865, and the name went back to Eaves & Nye until they dissolved several months later.

Charles Eugene Eckel
Georgetown, DC c. 1813-1851

Eckfeldt & Ackley
New York, NY  1896-1930
Manufacturer of jewelry and novelties.
Benjamin Franklin Edmunds
Manchester, NH c. 1850-1856; Boston, MA 1856-1861; and
New York, NY c. 1867-1874

J.T. Edwards & Co.
Chicago, IL 1847-1849


John Edwards (1671-1746)
Boston, MA c. 1694-1746
In the partnership of Allen & Edwards with John Allen
c. 1694-1702.

Joseph Edwards, Jr. (1737-1783)
Boston, MA c. 1758-1783

Robert W. Edwards
San Francisco and Oakland, CA c. 1870-1898

Samuel Edwards
Boston, MA 1726-1762

Thomas Edwards
Boston, MA c. 1721-1755


Anna Eicher
Park Ridge, IL c. 1900-1925
Maker of quality handwrought Arts & Crafts holloware, flatware, and other small items.

Louis C. Eisenschmidt (Eisensmith) (b. 1855)
Newport, KY  1882-c. 1920
Was in the partnerships of L.C. Eisenschmidt & Bro. with Walter Eisenschmidt c. 1895-1905 and Eisensmith & Lohmeyer with Edward G. Lohmeyer 1913-1927.

M. Eisenstadt Jewelery Co.
St. Louis, MO 1864-1981
Went by Eisenstadt Mfg. Co. from 1904 through the 1940s.

Electric Chain Co. of Canada
Toronto, ON, Canada  1916-c. 1950
Manufacturing jeweler, also made souvenir spoons.  Not the same company as the Electric Chain Co. of Attleboro, MA.

Electrolytic Art Metal Co.
Trenton, NJ c. 1909-1920
Makers of silver overlay products.

William R. Elfers
New York, NY 1897-1932
Makers of sterling holloware and novelties.





Elgin American Mfg. Co.
Elgin, IL  1887-c. 1960
Makers of sterling vanity items, military insignia, cigarette cases, novelties and jewelry.  They also made cigarette cases under the HavOne brand name.  Became a division of the Illinois Watch Case Co. c. 1937.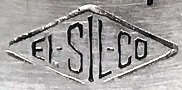 Elgin Silversmiths Co.
New York, NY  1946-1976
Successor to Redlich & Co.  Acquired Currier & Roby.  Makers of sterling holloware.

Henry P. Elias
Cincinnati, OH 1855-1868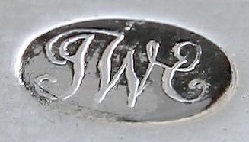 John W. Ellingwood (1782-1860)
Beverly, MA  c. 1803-1807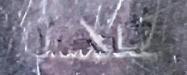 John Aaron Elliott
Sharon, CT c. 1809 and c. 1857 and Red Hook, NY c. 1850
Also worked in Michigan. His mark at left reads JAE.

Z. & W.S. Elliott
New York, NY 1815-1820
Zebulon & W.S. Elliott.



Zebulon Elliott (1790-1875)
New York, NY 1814-1821; Salisbury, NC 1821-1822;
and Sag Harbor, NY 1822-1875
In the partnerships of Z. & W.S. Elliott 1815-1820 and Elliott & Burnham with E.B. Burnham 1821-1822.


P.W. Ellis
Toronto, ON, Canada 1877-1928
Founded by Philip W. Ellis and Matthew C. Ellis.  Taken over by Birks in 1928.

John Elliston
Nashville, TN 1809-1823
Silversmith and clockmaker.

Joseph Thorp Elliston
Nashville, TN 1797-c. 1820
Was in the partnership of Elliston & Heener in 1802 and Seay & Ellison c. 1816-1819.  Nashville's first silversmith.  Served as Nashville's fourth mayor 1814-1817. Although Elliston continued to own a clock, watchmaking, and jewelry business until 1856, it is believed he stopped silversmithing around 1820.