LeHuray to Linker


Nicholas J. LeHuray, Sr. (1772-1837)
Philadelphia, PA 1809-1825 and 1828-1835;
and Ogletown, DE c. 1826

Nicholas J. LeHuray, Jr. (b.c. 1796-1846)
Philadelphia, PA  1821-1846
After LeHuray's death in 1846, his brother Theodore
continued to run the business under his name until 1851.

Theodore LeHuray
Philadelphia, PA 1843-1851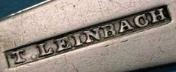 Traugott Leinbach (Linebach)
Salem, NC 1821-1860

Karl F. Leinonen / Karl F. Leinonen & Son
Boston, MA c. 1932-Present
Was head smith at the Handicraft Shop 1901-1932 which became an independent
shop shortly thereafter. Karl's son, Edwin, then joined the firm to become the
present Karl F. Leinonen & Son.

Benjamin Lemaire
Philadelphia, PA  1785-1789

Lemon & Kendrick
Louisville, KY  1832-1843
James Innes Lemon and William Kendrick.


James Innes Lemon / James I. Lemon & Co.
Louisville, KY  1828-1869
Was in the partnerships of Harris & Lemon with John C. Harris 1830-1832 and Lemon & Kendrick 1832-1843.  Partnered with Edmund J. Daumont in 1857 and they operated under the business name of James I. Lemon & Co., working primarily as jewelers and silver retailers. Son James Kendrick Lemon was added as a partner in 1865 and Daumont withdrew from the partnership in 1866.  James I. Lemon died in 1869 and the name of the business was changed in 1875 to James K. Lemon, working as a jewelry business.  He continued to work under his own name until his son, Brainard Lemon, joined the firm, changing the name to James K. Lemon and Son.  The business was incorporated in 1908 as Lemon & Son and closed c. 2020.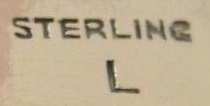 Lenau Co.
Attleboro Falls, MA  c. 1896-1899

Godfrey Lenhart
York, PA c. 1779-1819

Francis Lennert
Warwick Township, PA 1833-1842
Silversmith and clockmaker.


Lenox Silver, Inc.
New York, NY 1950s

George K. Lentz
Philadelphia, PA c. 1825



Leonard & Wilson
Philadelphia, PA  1847-1851


D. Gillis Leonard
Newburgh, NY c. 1841-1864
Partnered with Nelson Haight in the firm of Haight &
Leonard in 1847.


Jacob Leonard
Chesterfield, MD 1808; Georgetown, DC 1810-1816;
Washington, DC 1816-1827; and Fredericksburg, VA 1828

Samuel T. Leonard
Chestertown, MD 1805-1848

Peter Leret
Philadelphia, PA 1779-1780; Carlisle, PA 1782-1785; and Baltimore, MD 1787-1802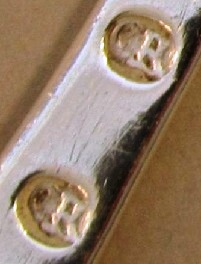 Charles LeRoux (1689-1745)
New York, NY  c. 1715-1743

John LeRoux
New York, NY c. 1730


Edward P. Lescure
Philadelphia, PA 1822-1861


A.J. & F.A. Leslie
Mobile, AL 1852-1871
Albert J. Leslie and Franklin A. Leslie.

F.A. & L. Lesquereux
Columbus, OH 1863-c. 1884
Founded by brothers Ferdinand A. Lesquereux and Leo Lesquereux, Jr.

John Letelier (Le Tellier / Le TeLier), Sr. and Jr.
Letelier Sr: Philadelphia, PA 1770-1793; Wilmington, DE 1793-1794
and 1798-1803; and Chester County, PA 1795-1798
Letelier Jr: Philadelphia, PA c. 1794; Chester County, PA 1796-1798;
Wilmington, DE 1799-1804; Washington, DC 1804-1808; Richmond, VA 1808-1819
To differentiate between father and son is difficult, and they both used the same marks on their silver.  It is known that Letelier, Sr. began working in Philadelphia in 1770. It is believed Letelier, Jr. began working alongside his father in Chester County, PA in about 1795. To date, experts have been unable to differentiate silver made by the father from that made by the son.


Ed Levin
New York, NY Mid-1950s-1964 and Bennington, VT 1964-Present
Modernist studio jeweler.

William Levis
Philadelphia, PA 1810-1814 and Lancaster, PA 1825-1837

Jonas Levy
Connersville, IN 1821; Cincinnati, OH 1825-1834; New York, NY 1835-1838;
Pulaski Co., AR 1841-1851; and Memphis, TN 1855-1860

Lewis Bros.
New York, NY 1885-1909
Makers of sterling novelty items.

Lewis & Smith
Philadelphia, PA 1805-1811
Partnership between Harvey Lewis and Joseph D. Smith.





Harvey Lewis
Philadelphia, PA 1802-1827
Was in the partnership of Lewis & Smith 1805-1811.


Isaac Lewis
Huntington, CT c. 1796 and Ridgefield, CT 1809-1815

John Lewis
Philadelphia, PA 1830-1864
Was a partner in the firm of Johnston & Lewis 1837-1842.


Samuel Lewis (b.c. 1817-1879)
Washington, DC  1840-1879

Esther Lewittes
Los Angeles, CA 1950s-1960s
Modernist studio jeweler.

Gabriel Lewyn (Liwyn, Lewin)
Baltimore, MD c. 1768-1780 and Philadelphia, PA c. 1780-1790
L'Hommedieu Brothers
Mobile, AL 1837-1849
John A. and William L'Hommedieu.

John Ayer L'Hommedieu
Mobile, AL 1837-1868
In the firm of L'Hommedieu Brothers 1837-1849.


Jacob George Lewis Libby (1797-1847)
Boston, MA 1818-1847 and Richmond, VA 1820
Silversmith and jeweler.


Liebs Silver Co.
New York, NY 1915-1931


Lincoln & Foss
Boston, MA 1848-1857
Partnership of Albert L. Lincoln and Charles M. Foss.  Successors to Lincoln & Reed.


Lincoln & Reed
Boston, MA 1838-1848
A partnership between Albert L. Lincoln and Gideon F.T. Reed.

Albert Lamb Lincoln
Boston, MA 1838-1875
Was a member of the firms of Lincoln & Reed 1835-1844; Lincoln & Foss 1848-1857; and Haddock, Lincoln & Foss 1857-1868.
Elijah Lincoln
Hingham, MA c. 1818-1833

George Lindner
Philadelphia, PA 1837-1872

Benjamin Lindsey (Linesey)
Providence, RI c. 1798-1805

Clark Lindsley
Hartford, CT 1849-1859
In the partnership of Seymour & Lindsley 1854-1856.

Link & Angell
Newark, NJ 1898-1933
Successor to Link, Angell & Weiss.

Link, Angell & Weiss
Newark, NJ 1893-1898
Founded by William Link. Makers of small sterling items and jewelry.  Succeeded by Link & Angell.

William Link Co.
Newark, NJ 1910-1931
Business formed upon the death of William Link.


William Link
Newark, NJ 1871-1910
Was in the partnerships of William Link & Co. 1875-1882 and
Link & Conkling 1882-1886. Link's business was incorporated as the William Link Co. upon his death in 1910.

William Linker
Philadelphia, PA 1906-c. 1915
Maker of sterling flatware, holloware and novelties.