Sinclair to Spaulding
Sinclair Mfg. Co.
Chartley, MA 1947-Present
Made sterling goods in the 1950s.

H. Fred Skaggs
Scottsdale, AZ 1956-1983
Maker of handwrought sterling holloware, flatware, and jewelry.
Skaggs died in 1983 and his business continued to operate under his name to the 2000s.
Joseph Skinger
Alburg Springs, CT 1946-1958 and Stowe, VT 1958-1967
Primarily a jeweler and sculptor, Skinger also made sterling flatware and holloware.

Skinner & Sweet
Boston, MA 1845-1857
Alvah Skinner and James Sweet.

Abraham Skinner
New York, NY 1756-1762



Alvah Skinner / A. Skinner & Son
Boston, MA 1830-1883
Was a partner in the firm of Skinner & Sweet with James Sweet 1845-1857 and A. Skinner & Son 1880-1883, A. Skinner & Son remaining in business until 1911 when it was succeeded by Carl H. Skinner.


Olaf Skoogfors
Philadelphia, PA 1959-1975

Peer Smed
Brooklyn, NY 1909-1943
Danish born and trained; designed for Tiffany & Co. in the 1930s. Important maker of sterling handwrought flatware and holloware whose items are on display in a number of museums around the country.

Smith & Boerner
Cincinnati, OH 1861-1863
Harry R. Smith and Charles G. Boerner, Jr., successor to Beggs & Smith.

Smith & Chamberlain
Salem, MA  1840-1871
James Ford Smith and Benjamin Chamberlain.

Smith & Chitry
Owego, NY c. 1840
Francis Smith with an unidentified partner.

Smith & Grant
Louisville, KY 1827-1831

Smith Metal Arts Co.
Buffalo, NY 1919-Present
Founded by Heintz Art Metal Shop employee Fred Smith and others in direct competition with their former employer.  Made sterling mounted bronze items in the 1920s under the brand name Silver Crest.

Smith & Sill
Middletown, CT 1825-1831

Smith & Smith
Attleboro, MA
Purchased by Wallace in 1958. Maker of sterling cigar boxes and novelties.


Alvin Smith (d. 1849)
Bedford, NY c. 1840-1846 and Port Chester, NY 1846-1849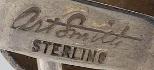 Art Smith (1917-1982)
New York, NY c. 1940- c. 1980
Modernist studio jeweler.

Christian Smith
Philadelphia, PA 1820-1833


D.A. Smith
St. Louis, MO c. 1839 and Carthage, MO 1846

David Smith
Philadelphia, PA 1778-1787 and Lansingburg, NY 1787-1793

Floyd Smith
New York, NY 1815-1834






The Frank W. Smith Silver Co.
Gardner, MA 1886-1958
Frank Smith was the grandson of William Durgin and worked with him in Concord, NH.  Smith went on to establish his own company.  Makers of a full line of sterling flatware and holloware, their dies were sold to Towle and the company was sold to Webster Silver Co.
See flatware patterns.

Frederick H. Smith
Philadelphia, PA 1833-1853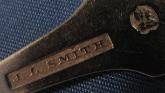 John Leonard Smith
Syracuse, NY 1851-1880

John M. Smith
Nashville, TN c. 1834-1835

Joseph Smith
Boston, MA c. 1788-1789




Lawrence B. Smith Co. / LBS Co.
Boston, MA  1887-c. 1958
Makers of sterling and silverplated flatware and silverplate
holloware.  The marks above were found on silverplate
items.  Went out of business around 1958.




Martin S. Smith / M.S. Smith & Co.
Detroit, MI 1859-1889
Formed M.S. Smith & Co. with brothers Frank G. and Edward J. Smith in 1864.  Succeeded by Frank G. Smith, Sons & Co. 1889-1895.


Nathaniel W. Smith
Columbus, OH 1814, 1823, and 1852-1850; Pittsburgh, PA
1818-1819; Wheeling, WV 1829-1832 and 1838-1839;
Parkersburg, WV 1841; Clarksburg, WV 1846; Clintonville, IL
(now Clinton) c. 1858-1860; Fort Scott, KS 1860; and
Mattoon, IL c. 1870
Was in the partnership of Smith & Park with John Park in 1819. Silversmith and watchmaker.

Rest Fenner Smith & Co.
New York, NY c. 1880-c. 1905
Makers of gold and sterling mounted walking sticks.

Richard Smith (1827-1904)
Newark, NJ  1844-1889
Was in the partnerships of Baldwin & Smith 1850-1854 and Richard Smith & Co. 1879-1888.


Richard Ewing Smith (1800-1849)
Louisville, KY  1821-1849
Was in the partnership of Smith & Grant 1827-1831 and
Smith & Kitts 1844-1845.
Samuel Smith
Philadelphia, PA 1845-1846

William Smith
New York, NY 1817-1843


Zebulon Smith (1786-1865)
Bangor, ME 1810-1848 and Ellsworth, ME 1849-1865
Was in the partnerships of Smith & Clapp with Amasa L. Clapp
1834-1835 and later Smith & Skerry with Henry Skerry 1845-1846.

Jeremiah Snow IV (b. 1764)
Amherst and Williamsburg, MA c. 1806-1809


J. & G. Snyder
Paris, KY 1845-1848
James C. Snyder and father George W. Snyder, Jr. Marks for this
partnership read both "J. & C. Snyder" and "J. & G. Snyder".

George W. Snyder, Jr.
Paris, KY 1821-1831 and 1845-1848
Quit the silversmith business in 1831. Re-entered the occupation in 1845 to go into business with his son, James C. Snyder as the partnership of J. & G. Snyder, leaving his son to carry on alone in 1848. The Snyder family was best known for making fishing reels.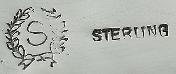 A.M. Soffel Co.
Newark, NJ c. 1920-1930

Jacob Sossaman (1788-1870)
Jackson, TN 1837-1838 and San Augustine, TX c. 1840-1860

Simeon Soumaine (1685-1750)
New York, NY  c. 1719-1750

Spaulding & Co.
Chicago, IL 1888-1973
Founded in 1888 by Henry A. Spaulding when he acquired the business of N. Matson & Co. Successor to S. Hoard & Co. Was owned by Gorham in the late 1920s to 1943 and went under the name Spaulding-Gorham during that time.  Well known as a jewelry retailer, Spaulding & Co. also manufactured and retailed sterling holloware. Acquired by S.S. Peacock.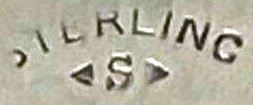 D.S. Spaulding
Mansfield, MA  c. 1878-1922
Makers of sterling holloware, novelties, and jewelry.