Alphabetical By Name
A
B
C
D
E
F
G
H
I
J
K
L
M
N
O
P
Q
R
S
T
U
V
W
Y
Z
Baltimore Assay Marks


View All
Abbey to Ayres

Henry S. Abbey
Akron, OH  1835-1873
Had a branch store in Galesburg, IL in the 1860s.

Abercrombie & Fitch Co
1893-Present
Headquartered in New Albany, OH. Department store and clothier.

Abraham & Straus
Brooklyn, NY 1893-1995
Successor to Wechsler & Abraham (1865-1893). Always having close ties to Macy's Department Stores, Abraham & Straus became part of Macy's in 1995.

Addison Bros.
Chelsea, MA c. 1872-1930

Adler & Myers
Albany, NY 1857-1862
Manufacturing jewelers.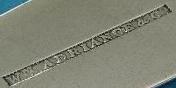 William Adriance & Co.
Natchez, MS 1834-1841

W.A. Aicher
Pomeroy, OH c. 1857-1900


Aiken & Coon
Cleveland, OH  1853-1857
Charles G. Aiken and Jeremiah Coon.  Wholesale and retail jewelers.

Albaugh & Pickering
Columbus, OH 1905-1911
Edwin S. Albaugh and Thomas O. Pickering. Jewelers.

Joseph R. Albertson
New York, NY c. 1845-1849 and Cleveland, OH 1849-1858
Was in the partnership of Cowles & Albertson with Royal Cowles 1849-1854.

Thomas F. Albright
Philadelphia, PA 1835-1847
Clock and watchmaker.

Alden Brothers
Waterville, ME 1867-1910 Arthur J. and Chaarles H. Alden.
Watchmakers and jewelers.

Arthur J. Alden
Waterville, ME Worked independently 1860-1867 at which time
his brother, Charles A. Alden, joined him to form Alden Brothers
and lasted until the brothers' retirement in 1910.


James Allan / James Allan & Co.
Charleston, SC  1855-1908
Founded James Allan & Co. c. 1884 which continued in business until 1960.

M.B. Allebach & Co.
Philadelphia, PA 1860-1862
Mahlon B. Allebach and David D. Lewis.

Allen & Wadsworth
Keene, NH c. 1865-1873
Francis E. Allen and Samuel Wadsworth.

Charles E. Allen
Lancaster, NH c. 1855-1875
Jeweler.

Allison & Bedford
Ionia, MI 1872-1877
Charles S. Allison and Robert H. Bedford.

Henry E. Allison
Pontiac, MI  1849-1887

John H. Allison
Detroit, MI c. 1852-1865 and Elkhart, IN 1885-1895
Watchmaker and jeweler.

Thomas Alsop
Philadelphia, PA 1848-1851

G.L. Ames & Bro.
Saratoga Springs, NY c. 1865
George and Sampson Ames, merchants.

Anderson & Randolph
San Francisco, CA 1869-1879
Manufacturing jewelers.

Alexander Anderson
Danville, KY c. 1864-1870

James D. Anderson
Vicksburg, MS 1837-1840 and 1844-1848 and
New Orleans, LA 1848-1853
Jewelry and watch importer.

Loring Andrews & Co.
Cincinnati, OH 1895-1958
Succeeded by Newstedt-Loring Andrews, which is still in business today.

James Annin
Boston, MA 1843-1849 and Le Roy, NY 1849-1899

Louis Anrich
New York, NY 1841-1869
Watchmaker, jeweler, and diamond dealer.

Applebee & Parker
Lyndonville, VT 1873-1875
Cephas Applebee and Tyler E. Parker.

Niels Arnzen
Fall River, MA c. 1845-1895

C.B. Aspinwall & Co.
Oswego, NY 1865-1877
Chauncey B. Aspinwall.

Charles A. Aughinbaugh
Harrisburg, PA c. 1865-1898
Jeweler.

Austin & Prescott
Batavia, NY  1885-1914
George J. Austin and Charles F. Prescott, jewelers.

Matthias Avise
Philadelphia, PA 1852-1858 and 1873-1875
Watchmaker and jeweler.

Don Carlos Ayer
Boston, MA  c. 1845-1868

Ayers & Dunning
Penn Yan, NY  c. 1839-1840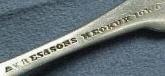 T.R.J. Ayres & Sons
Keokuk, IA  c. 1875-1930

James R. Ayres
Waterbury, CT  1856-1872
Jeweler and watchmaker.