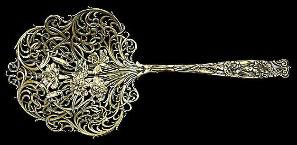 The making of souvenir spoons started in Europe in the mid-1850s. M.W. Galt and Seth F. Low (son of Daniel Low) are credited with bringing this idea to the U.S., launching a collecting craze that lasted for 30 years and continues to be popular today.
M.W. Galt Bro. & Co. made the first souvenir spoon in the United States in 1889. It was the George Washington spoon and it was shortly followed by the Martha Washington spoon.
But it was the Daniel Low Co. that really got the souvenir spoon industry rolling in 1890. Seth F. Low designed the Salem Witch Spoon for his father's company, and it was manufactured by the William B. Durgin Co. The Daniel Low Co. then launched a huge sales campaign for the spoon, running full-page ads in newspapers across the U.S. The spoon was an immediate success.
The Salem Witch spoon turned out to be so popular that other flatware pieces were made in the Witch design such as gravy ladles, butter knives, sardine forks – 15 pieces in all. The Salem Witch spoon was quickly followed up with a second pattern which Daniel Low had made for them by The Gorham Co. These two spoons are now known as the "first pattern" and "second pattern" designs.
By mid-1891, hundreds of souvenir spoon patterns were being produced, with designs commemorating things such as U.S. cities and towns, famous people, current and historical events, schools, animals, flowers – anything that could be imagined.