Alphabetical By Name
A
B
C
D
E
F
G
H
I
J
K
L
M
N
O
P
Q
R
S
T
U
V
W
Y
Z
Baltimore Assay Marks


View All
Blake to Butman

Blake & Lyon
Baltimore, MD 1846-1848

Blake & Robinson
Worcester, MA 1868-1872

J. Quincy Blake
Boston, MA c. 1834-1854
Jeweler.

Blair & Crawford
Philadelphia, PA  1890-1912
William G. Blair and Harry A. Crawford, jewelers.

Samuel S. Blanchard
Glover, VT c. 1845-1857
Merchant.

John B. Blickle
Rochester, MN c. 1885-1909
Watchmaker and jeweler.

Bliss & Whittemore
New Orleans, LA 1833-1835
John Bliss and Edwin Whittemore, jewelers.

Blood & Hix
Rockland, ME c. 1870-1882
William H. Blood and Thomas W. Hix, Jr.

Blynn & Baldwin
Columbus, OH 1849-1860
William Blynn and Thomas Scott Baldwin, jewelers.

William Blynn
Columbus, OH 1845-1865
Jeweler.

E.H. Boardman
Honolulu, HI 1841-1849
Watchmaker, jeweler, and chronometer maker.

Boas & Newhard
Harrisburg, PA 1850-1857

Henry S. Bodge
Portsmouth, NH c. 1860-1869 and New York, NY 1883-1885

Victor Bogaert Co. / Bogaert's
Lexington, KY c. 1910-2013
Jewelry business founded by Victor Bogaert c. 1890.

Bogle Bros.
White River Junction, VT 1889-c. 1960 with a branch in
Boston, MA c. 1895
Founded by brothers Byron L. and Clarence C. Bogle.  Importers and wholesalers.

Charles Bond
Boston, MA 1825-1875
Watchmaker.

Edward Bond
Hartford, CT 1844-1845
Jeweler.

Joseph Bonfanti
New York, NY  c. 1817-1838
Fancy goods merchant.

William Boning
Philadelphia, PA 1843-1865
Manufacturing jeweler.

John M. Bonnet, Sr.
Zanesville, OH 1835-1882
Bonnet's business continued to be run under his name after his death in 1882 until 1900.

Bourne & Lewis
New Bedford, MA c. 1848-1851

Bowler & Burdick Co.
Cleveland, OH 1875-c. 1940s
Founded by William Bowler and Russell E. Burdick.
Boynton & Woodford
Boston, MA 1837-1854
James Boynton and Philip R. Woodford, jewelers and makers of combs.

Edwin L. Brainard
Ware, MA c. 1845-1856

Alexander R. Brattin
Greencastle, IN 1860-1887; Kansas City, MO c. 1891-1892; and
St. Louis, MO 1893-1897
Opened short-lived branch locations in Danville and Spencer, IN, in the mid-1880s.

William D. Briggs
New York, NY 1837-1883
Watchmaker and jeweler. In the partnerships of Akerly & Briggs 1845-1851 and Wm. D. Briggs & Co. c. 1878-1883.

Brigham & Eager
Marlborough, MA c. 1878-1903
Loriman S. Brigham and Henry W. Eager, jewelers.

Loriman S. Brigham
Marlboro, MA 1856-1903
Was in the partnership of Brigham & Eager c. 1878-1903. Jeweler.

Isaac Brilleman
Albany, NY c. 1873-1902

Brock & Co.
Los Angeles, CA 1911-1960s

Brock & Feagans
Los Angeles, CA 1903-1911

Geo. T. Brodnax
Memphis, TN 1897-c. 1990

Frederick W. Bromberg
Birmingham, AL  1900-1929
Founded Bromberg & Co. with his son, William G. Bromberg, in 1919, which is still in business today.

Brooks & Frevert
Madison, IN c. 1880-1882
Frederick O. Brooks and ?

Benjamin F. Brooks
Utica, NY c. 1827-1856

Square G. Brooks
Roxbury, MA c. 1855-1862; San Francisco, CA c. 1864 and
Boston, MA c. 1868-1895
Watchmaker and jeweler. Was in the partnerships of S.G. Brooks & Co. in 1872, Brooks & Currier 1872-1875, and S.G. Brooks & Son
c. 1906-1907 (this firm remained in business to 1920).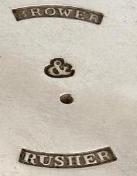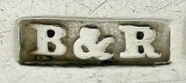 Brower & Rusher
New York, NY  1836-1842
House furnishings dealers.  Sold silver made by Sperry Douglas Brower, Hall & Hewson, and Hall, Hewson & Brower.

Brown & Anderson
Wilmington, NC  1850-1871
Thomas W. Brown and William S. Anderson.

Brown & Atwood
New York, NY 1853-1855

Brown & Marsters (aka F. Brown & Co.)
New York, NY  1852-1874
Francis Brown and Silas W. Marsters.
Watchmakers and jewelers.

Brown, Waterhouse, Kaiser
Louisville, KY 1948-Present
Jewelers.

C.P. Brown & Co.
Wheeling, VA (now WV) 1866-1867 and 1872-1875
Churtis P. Brown.

Dixon Brown
Norfolk, VA 1850-1866 and 1872-1891 and Williamsburg, VA
1866-1870
Watchmaker.

Rufus L. Bruce
New Orleans, LA  c. 1835-1857
Worked independently c. 1835-1857. Continued working as a partner of George W. Gregor in the firm of G.W. Gregor & Co. 1858-1862.  Watchmaker and jeweler.

Joseph Brunner
New York, NY  1839-1880
Watchmaker and jeweler.

E.H. Buckland & Co.
Springfield, MA 1866-1871

Henry Peat Buckley
New Orleans, LA 1850-1903

James Bulkley & Co.
New York, NY 1836-1837

Bunde & Upmeyer
Milwaukee, WI 1880-1950s
Manufacturing jewelers founded by Louis W. Bunde and William H. Upmeyer.

A.F. Burbank & Co.
Boston, MA 1853-1867 and Worcester, MA 1867-1880
Watchmakers and jewelers.

E.S. & D.R. Burr
Berlin, WI  c. 1858-1870
Jewelers.

Charles E. Butler
Hudson, NY  c. 1850-1899
Jeweler.

Clarendon Butman
Augusta, ME c. 1850 and Plymouth, ME 1869-1886