Alphabetical By Name
A
B
C
D
E
F
G
H
I
J
K
L
M
N
O
P
Q
R
S
T
U
V
W
Y
Z
Baltimore Assay Marks


View All
Campbell to Cusack

Campbell & Wyman
Montgomery, AL  c. 1857-1859
John Campbell and Justus Wyman.

John Campbell
Boston, MA 1844-1859
Watchmaker and jeweler.

William Canfield & Son
Troy, NY 1842-1846

Carrington, Thomas & Co.
Charleston, SC  1871-1931
Founded by William Thomas, William Thomas, and Waring P. Carrington.  Watchmakers and jewelers.
Carter Bros.
Portland, ME 1872-1991
Abiel Carter and John William Dodge Carter, jewelers.

Otis G. Carter, Sr.
Norwalk, OH 1831-1854 and 1860-1901; Chicago, IL 1854-1860
Watchmaker and jeweler.

Carver & Williams
Lambertville, NJ 1850-1894
Dry goods merchants.

Wm. H. Cary & Co.
New York, NY 1837-1856
Fancy goods merchants and comb makers.

I.H. Cary & Co.
Boston, MA 1825-1832 and New York, NY 1827-1836
Isaac H. Cary and William H. Cary. Comb makers and fancy goods merchants.

Charles Caspar
New York, NY 1891-1895
Jewelry and silverware merchant.
Cassidy & Ball
Philadelphia, PA 1858-c. 1866

William W. Cassidy
Philadelphia, PA 1846-1874

Wyllis Catlin
Augusta, GA 1823-1843 and Jacksonville, IL 1843-1851
Was in the partnership of J. & W. Catlin 1823-1832. Jeweler.

B.M. Chamberlain & Son / Chamberlain & Son
Salem, MA  1871-1907

William H. Chapman
Norfolk, VA c. 1850 and 1870-1892 and Petersburg, VA 1854-1858
Was a partner in the firms of McCulley & Chapman 1854-1856 and Chapman & Gale 1876-1892.

Chase & Tripp
Brattleboro, VT 1856-1861
Benjamin K. Chase and Charles A. Tripp.

Benjamin K. Chase
Brattleboro, VT 1855-1861; Rutland, VT 1861-1877; and
Chicago, IL 1881-1899
Watchmaker and jeweler.

H. Chase & Son
Belfast, ME c. 1875-1897
Hiram Chase and son Fred T. Chase.

Hiram Chase
Belfast, ME 1849-1880


John Davenport Chase
Brooklyn, NY 1846-1893

Edward E. Cheney
Nashua, NH c. 1882-c. 1910

S. & T. Child
Philadelphia, PA 1848-1896
Brothers Samuel T. Child and Thomas T. Child, watchmakers and jewelers.  Samuel and Thomas retired in 1882 and the business was continued by their sons, Henry L. Child and George C. Child.  When Henry retired in 1896, the business continued under George's name alone.

S.J. Child
Clyde and Danville, NY  c. 1854-1865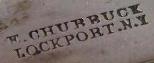 Elijah Chubbuck
Lockport, NY c. 1840-1870 and Manchester, MI c. 1873-1877

Clark, Coit & Cargill
New York, NY c. 1834-1836

The Clark-Sawyer Co.
Worcester, MA 1864-c. 1916
Founded by Thomas A. Clark and Stephen Sawyer.  House furnishings business

Benjamin S. Clark
Wilmington, DE  1838-1888
Jeweler.

Jerome A. Clark
Batavia, NY 1834-1885

Clarke & Dixon
Manchester, NH 1882-1884
Stephen Clarke and James Dixon

Charles J. Cleaves
Biddford, ME c. 1855-1902
Watchmaker.

William Stewart Cloyd
McKinney, TX c. 1860-1885
Watchmaker, jeweler, and gunsmith.

M. Cochenthaler
Montreal, QU 1877-1930s
Jeweler.

Cogswell & Weber
Milwaukee, WI 1866-1870
Manufacturing jewelers.

Asa C. Collier
Concord, MA c. 1845-1880

Kimball P. Colfax
New York, NY 1831-1854
Jeweler

John R. Compton
Rahway, NJ  c. 1850-1880
Watchmaker and jeweler.


Enoch Conklin / E. Conklin & Co.
New York, NY c. 1835-1838
In the partnership of E. Conklin & Co. 1835-1837, advertised independently 1838.

Cook & Goodman
Louisville, KY 1864-1869
Succeeded by Cook, Goodman & Co.

Cook & Jaques
Trenton, NJ 1871-1930s
E. Rezeau Cook and Samuel R. Jaques.  Watchmakers and jewelers.

Cook & Sloss
Louisville, KY  1871-1883
John W. Cook and Levi Sloss, jewelers.

Cooke & Son
Petersburg, VA 1833-1837
William Cooke and his son William A. Cooke.

Cooke & White
Norfolk, VA c. 1829-1833
William Cooke and Andrew White.  A branch was operated at the same time in Petersburg, VA, under the name of White & Cooke.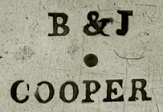 B. & J. Cooper
New York, NY  c. 1804-1819
Benjamin and Joseph Cooper, gunsmiths, military and fancy goods merchants.
William H. Cortelyou
New Brunswick, NJ c. 1850-1860
Watchmaker.

Aaron K. Cory
New Brunswick, NJ c. 1849-1851

Cowell & Hubbard Co.
Cleveland, OH 1879-1990s
Craft & Cutter
Indianapolis, IN 1870-1879
W. Harry Craft and H.P. Cutter, watchmakers and jewelers.

George Creamer
Poughkeepsie, NY c. 1842-1854
Jeweler.

Crooks & Metcalfe
Baltimore, MD 1893-1894

Charles August Wilkins Crosby
Boston, MA 1852-1894
Succeeded by C.A.W. Crosby & Son.

Francis Richard Crump
New York, NY c. 1842-1854
Watchmaker.

James W. Cusack
Troy, NY 1855-1896
Watchmaker and jeweler.