Alphabetical By Name
A
B
C
D
E
F
G
H
I
J
K
L
M
N
O
P
Q
R
S
T
U
V
W
Y
Z
Baltimore Assay Marks


View All
Eaton to Eyland

Benjamin G. Eaton
Mexico, NY c. 1860-1870

E.G. & F. Eaton
Olean, NY c. 1857
Fancy goods merchants.

Elon G. Eaton
Olean, NY c. 1855-1860 and Grand Rapids, MI c. 1865-1880
Jeweler.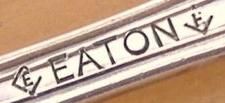 T. Eaton Co. Ltd.
Toronto, ON, Canada 1869-1999
Was at one time Canada's largest department store chain.



J.T. & E.M. Edwards
Chicago, IL  1852-1862
Jewelers.

Joseph Einstein
Philadelphia, PA  1855-1876
Jeweler.

Samuel H. Elliott
Lowell, MA c. 1834-1844
Jeweler.

William H. Elliott
Manchester, NH 1840-1902
Jeweler.

Elmer & Sipes
Baltimore, MD 1856-1859
Lewis E. Elmer and Ezra S. Sipes.
Watchmakers and jewelers.

Elson & Wolf
Boston, MA 1853-1854
Watchmakers.

Martin V.B. Elson
Freeport, IL  1872-1899
Jeweler.

William B. Eltonhead
Philadelphia, PA 1849-1880

C.M. Englehart & Son
Philadelphia, PA 1861-1885
Charles M. Englehart and William F. Englehart.

William F. Englehart
Philadelphia, PA 1861-c. 1921
Jeweler.  Was in the partnership of C.M. Englehart & Son
1861-1885.

Ettenheimer & Co.
Rochester, NY 1860-1907
Elias S. Ettenheimer and partners Jacob Ettenheimer and
S. Goodman.

E.S. & J. Ettenheimer
Rochester, NY c. 1860
Elias S. and Jacob Ettenheimer.

Eustis Bros.
Minneapolis, MN  1872-1911
Twin brothers Charles B. Eustis and George B. Eustis; watchmakers, jewelers and engravers.  The firm was sold to S. Jacobs & Co. in 1911.

Evans & Manning
Binghampton, NY c. 1865-1880
Alfred J. Evans and Robert T. Manning.

James Eyland & Co.
Charleston, SC  1820-1827
Importer and retailer.