Alphabetical By Name
A
B
C
D
E
F
G
H
I
J
K
L
M
N
O
P
Q
R
S
T
U
V
W
Y
Z
Baltimore Assay Marks


View All
Fairchild to Furtwangler

G.W. Fairchild & Sons
Bridgeport, CT c. 1890-1960s

Isaac Maltby Fairchild
Waterloo, NY c. 1850-1895

Farr & Bro.
Philadelphia, PA 1861-1877
William M. Farr and George W. Farr, Jr., jewelers.

Farr & Thompson
Philadelphia, PA 1853-1858
Watch importers and gold pen manufacturers.

John S. Farr
Norwich, NY; Elmira, NY; Bath, NY; and Addison, NY c. 1835-c. 1885
Watchmaker and jeweler.


Billings Stowell Farrington
Woonsocket, RI c. 1840-1885
Jeweler.
Feagans & Co.
Los Angeles, CA 1911-1927
Jewelry business founded by George E. Feagans.

Albert Feldenheimer
Portland, OR 1885-1936
Patented several souvenir spoon designs in 1891 and 1892 which were made by Gorham and Durgin. Went under the name of A. & C. Feldenheimer c. 1899-1936 when his brother Charles joined the business. Jeweler.

Fellows & Younge
New York, NY c. 1816-1819
Imported silver from Bradbury & Sons, Sheffield, England.

Fenno & Fairbanks
Boston, MA c. 1852 Jewelers.
James E. Fenno and James H. Fairbanks.

Ferguson & Craig
Champaign, IL c. 1895-1910
W.I. Ferguson and T.H. Craig; jewelers and opticians.

Ferguson & Page
St. John, New Brunswick, Canada 1888-1932
Founded by James Ferguson and Henry C. Page.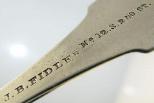 James B. Fidler
Philadelphia, PA 1847-1861
Jeweler.

George Finck
San Francisco, CA 1871-1883; Burlington, IA 1885;
Chicago, IL c. 1890-1896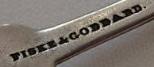 Fiske & Goddard
Worcester, MA c. 1858-1861

Flagg & Chapin
Springfield, MA c. 1828-1835

Charles W. Flagg
Woonsocket, RI c. 1875-1905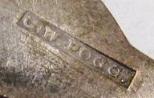 Charles W. Fogg
Waltham, MA 1842-1859
Watchmaker and jeweler.  Worked as superintendent of the American Watch Co. factory 1861-1876.

Julian Augustus Fogg / Julian A. Fogg & Co.
Salem, MA c. 1860-1910
Worked as Julian A. Fogg & Co. 1868-1877 with a branch
in Boston.  Manufacturing jeweler.

Andrew Foley
Wellsboro, PA c. 1855-1875

A. & L. Forbes
St. Louis, MO c. 1840-1848
Fancy goods merchants.

Foster & Blanchard
Gloucester, MA c. 1911-1913
Jeremiah Foster and William E. Blanchard, jewelers.

Fox & Fulmer
Easton, PA  1880-c. 1927
Founded by Eli M. Fox and his nephew Eli Fulmer; jewelers and opticians.

Foye & Gleason
Boston, MA 1864-1866 and c. 1868-1870

G.O. Foye & Son
Athol, MA c. 1885-1929
Jewelers.

A. Frankfield & Co.
New York, NY c. 1857-1920
Jewelers and importers.

Franklin & Frank
Cincinnati, OH c. 1853-1861
Manufacturing and wholesale jewelers.

Frantz Bros. & Co.
New Orleans, LA 1898-1902
Jewelers.

Robert L. Frazer
Lawrence, KS c. 1856-1869 and 1870-1877
Watchmaker and jeweler.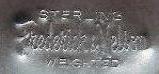 Frederick & Nelson
Seattle, WA 1890-1992
Department store acquired by Marshall Field in 1929. Sterling items were made for them by other companies and bear the Frederick & Nelson name.

Morris M. Fredrick
San Francisco, CA 1859-1860; Virginia City, NV c. 1865 and
1871-1889; and Seattle, WA c. 1905-1906
Had a branch stores in Reno, NV, and Bodie, CA.

Victor Freisinger
Atlantic City, NJ 1895-1913
Fancy and art goods merchant with branches in Baltimore, MD, Philadelphia, PA, Newport, RI, and Boston, MA

Abram French & Co.
Boston, MA 1869-c. 1902 and Chicago, IL 1874-c. 1902
Successor to Bassett, French & Co.  Importers and fancy goods merchants.

Freeman & Taylor
Boston, MA 1878-1908

J.J. Freeman & Co.
Toldeo, OH 1895-1914 Jewelers.
Succeeded by Broer Freeman Jewelers, which is still in business today.

Wiliam H.M. Freeman
Downington, PA c. 1875-1881 and West Chester, PA 1881-1898

J.M. Freeman & Son
Norfolk, VA 1854-1857 and 1870-1871
Watchmakers and jewelers.

Charles Christian Fried
Springfield, OH 1872-1907
Continued as C.C. Fried & Sons Co. until 1940.
P. Fries & Son
Philadelphia, PA 1866-1894
Phineas and Edgar Fries, watchmakers and jewelers.

A.F. Froeb & Co.
Terre Haute, IN 1891-1957

Newton Alvin Frost
Hanover, NH 1875-c. 1906

Leopold Furtwangler
Greensburg, PA  1850-1900
Jeweler.