Alphabetical By Name
A
B
C
D
E
F
G
H
I
J
K
L
M
N
O
P
Q
R
S
T
U
V
W
Y
Z
Baltimore Assay Marks


View All
Hense to Hyman

Hense & Gottesleben
Denver, CO c. 1870-1876
John H. Hense and P. Gottesleben, manufacturing jewelers.

Frank Herschede
Cincinnati, OH 1877-Present
Became well known as a hall clock maker, branching off with the Herschede Hall Clock Co. in 1885.

Hershfield & Mitchell
Leavenworth, KS 1860-1875
Reunben N. Hershfield and Noah Mitchell; wholesale and retail jewelers.

Hess & Culbertson Co.
St. Louis, MO 1883-1986
Founded by George J. Hess and Stephen D. Culbertson.  Manufacturing jewelers.

H.S. Hewett & Co.
Brockton, MA  c. 1889-1922
Jewelers and silverware merchants.

Herman Hewett
Taunton, MA c. 1857-1861, Bridgewater, MA
1861-1863, and North Bridgewater, MA 1863-1885

Augustus H. Hews
Boston, MA 1847-1867
Jeweler.

Darius L. Hildreth
Newport Center, CT 1856-1868 and again 1873-c. 1880
and North Troy, VT 1868-1873

E.J. Hill
Elmira, NY 1850s

James B. Hill
Fayetteville, TN  1860-1890
Jeweler.

R. Hills & Bro.
Boston, MA c. 1861-1873
Watchmakers.

John F. Hinds
Webster, MA c. 1840-1894
Jeweler and watchmaker.

Hirschman & Co.
San Francisco, CA c. 1909-1936
Marion A. Hirschman and Reginald M. Hirschman, jewelers.

Samuel Hittel
Detroit, MI 1856-1869
Watchmaker, jeweler, and gold pen manufacturer.

Hixson & Lyke
Lockport, NY c. 1874-1882
Jewelers.

Charles T. Hockridge
Madison, NY c. 1855-1889
Dry goods merchant.

Francis Hodgman
Littleton, NH 1831-c. 1861
Watchmaker and jeweler.

Benjamin C. Hoff
Auburn, NY c. 1855 and Syracuse, NY 1857-1868

Hogan & Wade
Cleveland, OH 1867-1869

Eli Holden
Philadelphia, PA c. 1843-1866
Watchmaker.

John O. Holden
Quincy, MA 1858-1890
Jeweler.

Aaron L. Holder
Lynn, MA c. 1825-1857
Druggist and silverware dealer.

Julius H. Hollister
Greenfield, MA 1844-1896
Jeweler.

Henry O. Hood
Baltimore, MD and Washington, DC 1847-1873
Importer.

Hope & Miller
Knoxville, TN 1868-c. 1876
John W. Hope and Frederick A. Miller; watchmakers and jewelers.

Edward H. Hopkins
Penn Yan, NY 1869-1920

Edwin B. Horn / E.B. Horn Co.
Boston, MA
Jewelers.  Edwin Booth Horn began the business in 1839 and was succeeded upon his death in 1872 by his son, Edwin Bartholomew Horn.  The E.B. Horn Co. was organized in 1891 and remains in business today.

James A. Horne
Dover, NH 1864-1883
Jeweler.

Hoskins & Evans
Owego, NY c. 1861

Watson Leverett Hoskins
Owego, NY 1858-1911
Jeweler.

Theron M. Howard
St. Johnsbury, VT 1856-1870
Continued in the partnership of Howard & Rowell wih Alfred D. Rowell 1870-1887.

H.J. Howe Jewelers
Syracuse, NY 1878-c. 1978
Founded by Henry J. Howe.

Howland & Donnell
Bath, ME 1863-1873
John T. Howland and Calvin C. Donnell, merchants.

Howland & Hayden
Bath, ME c. 1874-1887

Horace G. Hudson
Amesbury, MA 1870-1912
Jeweler and optician. Designed several souvenir spoons which were made by the Wm. B. Durgin Co. and Gorham.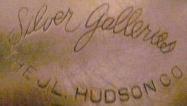 The J.L. Hudson Co.
A Detroit, MI, based department store founded in 1881 by Joseph L. Hudson.  In 1969, it was acquired by The Dayton Co. to form the Dayton-Hudson Corp.  In 2000, the remaining Hudson stores were changed to Marshall Field's, which had also been acquired by Dayton-Hudson in 1990.

William B. Hudson
Ebensburg, PA c. 1850-1852; Columbus, OH 1853-1854;
Cleveland, OH 1854-1860; and Sandusky, OH 1860-1875
Jeweler and watchmaker.

Hughes & Dorland
Cincinnati, OH c. 1857-1859
Wholesale jewelers.

Granville H. Hull
Fort Wayne, IN c. 1858 and Lafayette, IN c. 1860-1890
Jeweler.

John Hunter
Albany, NY 1835-1847
Jeweler.

Charles W. Hurll
New Bedford, MA c. 1858-1899
Jeweler and watchmaker.

Hutchinson & Connell
Portsmouth, NH 1872-1882
John H. Hutchinson and James R. Connell.

Hyde & Bettys
Auburn, NY 1861-1883
James Hyde and John Bettys

James Hyde
Auburn, NY c. 1850-1883
Jeweler and musical instrument dealer.

Hyman, Berg & Co.
Chicago, IL c. 1889-1910
Harry Sigmund Hyman and Morris H. Berg.