Alphabetical By Name
A
B
C
D
E
F
G
H
I
J
K
L
M
N
O
P
Q
R
S
T
U
V
W
Y
Z
Baltimore Assay Marks


View All
Jaccard to Justis

Jaccard Jewelry Co.
Kansas City, MO 1898-1970s

Jackson & Many
New York, NY 1849-1856
Succeeded by Many & Lewis.

A. Jacobs & Sons
New York, NY 1844-1848
Angel Jacobs with his sons Jacob and Alfred Jacobs.

S. Jacobs & Co.
Minneapolis, MN  1890-1983
Founded by Samuel Jacobs, Benjamin Jacobs, and Leopold Metzger.  Jewelers.


Henry B. James
Trenton, NJ  c. 1857-1871
Watchmaker and jeweler.

Jandorf & Mayer
Cincinnati, OH 1870-1873
Wholesale jewelers.

Simon Janowitz
Baltimore, MD  1856-1899
Watchmaker and jeweler.  Took on his son, Richard Janowitz, as partner to become S. Janowitz & Son 1883-1897 which became S. Janowitz & Sons in 1897.  Janowitz died in 1899 and S. Janowitz & Sons remained in business to 1930.

Jarecki Bros.
Erie, PA c. 1860-1865
Gustav, August, and Charles Jarecki.
Herman T. Jarecki
Erie, PA 1862-1909
The business was continued by Jarecki's descendants as Jarecki Jewelers until in closed in 2007.

Jones & Wood
Syracuse, NY 1846-1847
Watchmakers.

Samuel Jelly
Sacramento, CA 1850-1856 and 1859-1883
Jelly died in 1883, and his business was continued by his heirs under his name until 1891.
Jennings & Vaughan
Buffalo, NY c. 1845
Jewelers.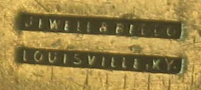 Jewell & Beddo
Louisville, KY 1875-1880
Edward Jewell and Horace Beddo, manufacturing jewelers.

Levi Johnson
Saxonville, MA c. 1849 and Worcester, MA 1850-1899
Jeweler.  Was in the partnership of L. Johnson & Son 1877-1899.

William B. Johnston
Macon, GA 1832-c. 1850
Worked as W.B. Johnston & Co. 1839-1842 then J.B. Johnston & Bro. 1845-1849.

Jones & Baker
Milwaukee, WI 1855-1858


George A. Jones
Zanesville, OH 1845-1870
Jeweler.

J.F. Jones
Syracuse, NY c. 1850

Joslin & Park
Denver, CO  1866-1900
Founded by Jervis Joslin and Boyd Park, manufacturing and retail jewelers. Park moved to Salt Lake City, UT, in 1871 and opened a branch store there.  Other branches operated in Leadville, CO, and Cheyenne, WY, in the 1870s and 1880s.  The Denver and Salt Lake City stores were succeeded by Boyd Park Jewelers.  The Denver store closed in 1910 and the Salt Lake City store remained in business until 1952 when it was succeeded by Bennion's Boyd Park Jewelry 1952-1974 then Dick Bennion Jewelry 1974-Present.

Justis & Co.
Baltimore, MD 1874-1877
William S. Justis.