Alphabetical By Name
A
B
C
D
E
F
G
H
I
J
K
L
M
N
O
P
Q
R
S
T
U
V
W
Y
Z
Baltimore Assay Marks


View All
Macomber to Mendel

Frederic William Macomber
Fall River, MA  c. 1855-1877

Simon M. Magnus
Albany, NY c. 1848-1860

James A. Main
Arcade, NY 1859-1861 and Warsaw, NY 1865-1910
Jeweler.

Mansfield & Baird
Philadelphia, PA 1871-1876
Jewelers.

Frederick W. Marmet
Cincinnati, OH c. 1850-1883
Jeweler.

Marsh & Hoffman
Albany, NY 1880-1896
Benjamin Marsh and Frederick W. Hoffman, jewelers and fancy goods merchants.

Henry Beebe Marsh
Detroit, MI 1840-1853 and New Brunswick, NJ 1853-1886
Jeweler.

John F. Mascher
Philadelphia, PA  1844-1863

Charles S. Massey
Allentown, PA 1835-1881 Jeweler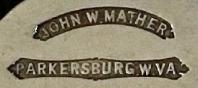 John W. Mather
Parkersburg, WV c. 1870-1927
Was in the partnership of John W. Mater & Son with Walter T. Mather from c. 1918 until his death in 1927.

Matson & Loomis
Milwaukee, WI 1859-1864
One of many businesses owned by Newell Matson, this one with
L.L. Loomis as his partner.

Horace E. Matteson
Seville, OH c. 1856-1887
Dry goods merchant.


John Maull
Philadelphia, PA c. 1846-1849
Jeweler.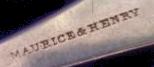 Maurice & Henry
St. Louis, MO 1859-1861
William H. Maurice and William D. Henry, jewelers.

Mayer & Graffe
Ft. Wayne, IN 1865-1881 with a branch in Wabash, IN
Founded by Andrew M. Mayer and Henry C. Graffe, jewelers.

George H. Maynard
Boston, MA 1860 and 1868-1903
Watchmaker and jeweler.

W.M. & J.B. Mayo
Chicago, IL 1867-1871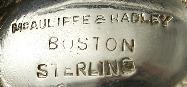 McAuliffe & Hadley
Boston, MA 1910-1922

Thomas McCollin
Philadelphia, PA 1824-1833
Watchmaker.

John W. McDuffee
Lewiston, ME 1864-1867 and 1873-1876
and Portland, ME 1869-1880
Watchmaker and jeweler.

D. & G. McElwain
Becket, MA c. 1845
David and George McElwain, jewelers.



William Wilson McGrew
Cincinnati, OH 1855-1875
Worked with his father Wilson McGrew in the firm of Wilson McGrew & Son 1855-1859.

McKay, Brown & Co.
Boston, MA 1856
Watchmakers and jewelers.

McKay, Spear & Brown
Boston, MA 1851-1856
William P. McKay, Henry T. Spear, and James W.L. Brown.  Jewelers.

Wm. P. McKay & Co.
Boston, MA 1839-1851
Founded by William P. McKay and Henry T. Spear.

W.D. & A. McLean
Cohoes, NY c. 1870-1872

Jeremiah McLene
Indianapolis, IN 1853-1877
Was a partner in the firms of E.J. Baldwin & Co. 1855-1859, McLene & Herron 1864-1872 and again in 1877, and McLene & Northrup 1872-1875.

McMullan & Hamilton
New York, NY 1866-1876
Robert McMullan and Joseph D. Hamilton, jewelers.

Gershom Flagg Melcher
Portsmouth, NH c. 1856-1876
Watchmaker.

Samuel Melick
Stroudsburg, PA 1852-1863 and 1889-1903;
New York, NY 1864-1865 and Newburgh, NY c. 1867-1888
Watchmaker and jeweler.

Joseph Henry Melluish
Bloomington, IL c. 1864-1883
Melluish died in 1883; his widow continued the business under his name until 1899.

David Mendel
Louisville, KY 1852-1865