Alphabetical By Name
A
B
C
D
E
F
G
H
I
J
K
L
M
N
O
P
Q
R
S
T
U
V
W
Y
Z
Baltimore Assay Marks


View All
Rae to Ryland

W.T. Rae & Co.
Newark, NJ 1860-1906
William T. Rae and Vincent M. Wright, watchmakers and jewelers.

Victor M. Ramee
New York, NY 1841-1843 and 1866-1874; Hackensack, NJ c. 1852+
Ramee spent 1843-1851 in Wisconsin, first with a dry goods business then going into farming.  He was in the partnerships of Ramee & Greason with John R. Greason 1866-1872; V.M. Ramee & Co. 1872-1873; and Ramee, McClymont & Co. in 1874.

Isaiah Randell
Seneca Falls, NY 1858-1898

Jonathan A. Rawson
Amherst, MA c. 1871-1900
Jeweler and stationer.

J.R. Reed & Co.
Pittsburgh, PA c. 1850-1949
Founded by brothers James R. Reed and George M. Reed and their father James Reed.

James R. Reed
Pittsburgh, PA  1847-1899
Working independently 1847-1850.  Was in the partnership of J.R. Reed & Co. c. 1850-1899.

Reagan, Kipp Co.
Boston, MA 1920s
Jewelers.

Rudolph Reincke
Denver, CO 1890-1916
Silverware and cutlery dealer.

Reineman & Meyran
Pittsburgh, PA c. 1857-1860
Jewelers.

Rhodes, Anthony & Co.
Cincinnati, OH 1837
Thomas Frederick Rhodes and John Gould Anthony, jewelers.

H.Z. Rhoads & Bro.
Lancaster, PA 1865-1882
Brothers Henry Zahm Rhoads and Charles Godfried Rhoads. Jewelers.

Rice & Burnett
Cleveland, OH 1854-1888
Crockery and house furnishings merchants.


George Hale Richards, Sr.
Keene, NH  1845-1861
Watchmaker and jeweler.

George Hale Richards, Jr.
Boston, MA  1876-1892
Was in the partnership of George H. Richards, Jr. & Co. 1887-1892.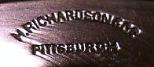 H. Richardson & Co.
Pittsburgh, PA 1861-1873
Watchmakers and jewelers.

Henry Richardson
Providence, RI c. 1840-1866

Israel Ricksecker
Dover, OH 1837-1872
Jeweler and clockmaker.

E. Ridley & Sons
New York, NY c. 1880-1901
Department store.

Arthur Rifenbergh
Hudson, NY 1854-1869

G.C. Robbins & Co.
St. Louis, MO 1849-1851
G. Collier Robbins and Charles Evans, jewelers.


Marcus F. Robinson
Springfield, MA 1860-1899
Continued in 1899 in the partnership of Robinson & Son until his
death in 1907.

Edmund J. Roberts
Philadelphia, PA 1853-1871

Rodgers & Krull
Louisville, KY 1900-c. 1931
Ben F. Rodgers and Ed Krull, jewelers.

Louis C. Roessler
Cumberland, MD c. 1890-1905

Rogers & Kimberly
New York, NY  1840-1841
Charles Rogers and Henry R. Kimberly, jewelers.

G.S. & G.L. Rogers
Gardiner, ME 1858-1889
George S. Rogers and his son George L. Rogers.

Rood & Goodrich
Milwaukee, WI 1854-1855

H. & D. Rosenberg
Syracuse, NY 1847-1849 and Rochester, NY 1849-1884

Nathan Rossman
New York, NY  1847-1865
Jeweler.

Rowell & Hutchinson
Portsmouth, NH 1868-1870
Alfred D. Rowell and John H. Hutchinson.  Watchmakers and jewelers.

Henry Rowlands
Albany, NY 1869-1886 and Brooklyn, NY c. 1887-1888
Jeweler and importer.


Joseph Rudd / J. Rudd & Co.
New York, NY c. 1834-1865
Was in the partnership of J. Rudd & Co. with John Cottier
1853-1865.

Orange B. Rudd
Ilion, IL 1862-1920
Was in the partnership of Rudd & Rix 1907-1920.

Theodore F. Rude
Cuba, NY  1869-1909
Jeweler.

Charles F. Rudolph
Wilmington, DE 1856-1908
Jeweler.

Alexander D. Ruff
Millersburg, KY c. 1865; Owingsville, KY 1872-1880;
and Richmond, KY 1880-1891

Russell & Lyon
Jacksonville, IL  1880-1915
Charles H. Russell and Alpheus E. Lyon, jewelers.

Ruttle & Terlau
Covington, KY  1859-1860
Daniel R. Ruttle and Henry T. Terlau, jewelers and watchmakers.

G.W. Ryder & Son
San Jose, CA  c. 1897-1928
Founded by George W. Ryder and William G. Ryder.  Jewelers and opticians.

Ryland & Rankin
Lynchburg, VA  1892-1903
Dudley Ryland and Arthur Rankin.  Successor to Watts, Ryland & Rankin.  A branch was operated in Roanoke, VA, 1899-1903 and another in White Sulphur Springs, VA, during the summers.