Alphabetical By Name
A
B
C
D
E
F
G
H
I
J
K
L
M
N
O
P
Q
R
S
T
U
V
W
Y
Z
Baltimore Assay Marks


View All
Yates to Young

S. Yates & Co.
Albany, NY c. 1825

L.H. Yeager & Co.
Allentown, PA 1881-1940s
Wholesaler.

James L. Yoder
Pottsville, PA 1876-1880 and Wisonisco, PA 1881-c. 1895

S.E. Young & Co.
Laconia, NH 1865-1888
Samuel E. Young and Edgar Covell, jewelers.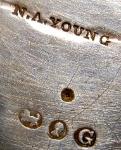 Nelson A. Young
New Orleans, LA 1841-1850
Was in the partnership of Whittemore & Young with Edwin Whittemore in 1841.  Watchmaker and jeweler.