Abbott to American

John Sullivan Abbott
Montpelier, VT 1838-1853; Bethel, ME 1858-1860; and
Conneaut, OH c. 1864-1874
Silversmith, jeweler, and watchmaker.



John W. Abbott, Jr. (Abbot)
Portsmouth, NH 1817-1850
Changed name from Abbot to Abbott in 1828.

Acme Silver Company
Toronto, Ontario, Canada 1885-1893


Robert F. Adair
Maysville, KY 1859-1861


James Adam
Alexandria, VA  c. 1775-1798
Marks shown also used by son John Adam.






John Adam
Alexandria, VA  1796-1848
Top two marks shown also used by father James Adam above.

William Wallace Adam
Alexandria, VA c. 1831-1877
Was in the partnership of W.W. Adam & Son with son Charles F. Adam 1875-1877.
Adams & Buttre
Elmira, NY c. 1836
Henry B. Adams and Nathaniel Buttre

Adams & Farnsworth
Boston, MA 1846-1851
George Edward Adams and John C. Farnsworth.  Successors to
A.L. Dennison, Adams & Co.  Silversmiths and jewelers.

Adams & Shaw
New York NY 1876-1878 and Newark, NJ 1878-1880
Founded by Caleb Cushing Adams and Thomas Shaw as a successor to Thomas Shaw & Co.  Acquired the dies of John R. Wendt & Co. Makers of sterling and plated wares, including silverplated items for Tiffany & Co.  The company was acquired by Dominick & Haff in 1880.

Albert F. Adams
Nashua, NH 1857-1872
Worked with his son Albert F. Adams as A. Adams & Son c. 1867. Went into the dry goods business in 1872.

George Edward Adams
Boston, MA c. 1843-1875
Was in the partnership of Dennison, Adams & Co. with Aaron L.
Dennison and John C. Farnsworth 1843-1846 and then Adams & Farnsworth with John C. Farnsworth 1846-1848.


Nathan Adams
Andover, MA 1784; Wiscasset, ME c. 1785; Hallowell, ME 1795-1796;
Wiscasset, ME 1803-1810; Edgecomb, ME 1810-1813; and Boston, MA 1825

William Adams
New York, NY 1829-1861
In the partnership of Adams & Kidney with Edmund Kidney in
1851-1861.  Importer of Sheffield silverplate and maker of antique English sterling reproductions.



Adelphi Silver Plate Co.
New York, NY 1890-c. 1912
Makers of sterling and silverplated holloware.

Allan Adler
Los Angeles, CA 1939-Present
Known as the "silversmith to the stars" due to his large number of Hollywood celebrity clients. Maker of sterling flatware, holloware, jewelry, and miscellaneous items. Adler died in 2002, and his shop continues to make sterling handcrafted goods in Costa Mesa, CA.
Website.
See flatware patterns.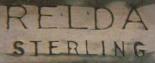 Paul Adler
California c. 1945
Maker of modern sterling handwrought flatware. The RELDA logo is Adler spelled backwards.


Charles Platt Adriance
Richmond, VA 1816-1831 and Poughkeepsie, NY 1831

Ahrendt & Kautzmann
Newark, NJ c. 1913-1915
Made sterling holloware items for Brand-Chatillon, a New York City retailer.

George Aiken (1765-1832)
Baltimore, MD  1785-1823
In the partnership of Aiken & Brown 1807-1808.

Aikin, Lambert & Co.
New York, NY 1867-c. 1931
Founded by James C. Aikin and Henry A. Lambert. Began as jewelers and became a well known gold and silver pen manufacturer, also making small sterling novelties.  Acquired by The L.E. Waterman Co. in 1902 and the name was changed to the Aiken-Lambert Co.

John Aitken (Aiken)
Philadelphia, PA 1780-1813

Akerly & Briggs
New York, NY 1845-1851
Richard C. Akerly and William D. Briggs


John Brent Akin
Danville, KY 1855-1860
Primarily retailed the goods of Peter L. Krider; spoons bearing Akin's mark alone may have been made by him.


Valerio Albarello, Inc.
Meriden, CT 1965-Present
Makers of sterling holloware and trophies.  They also make specialty items for Reed & Barton, Tiffany & Co. and others.

Rudolph Albert
Maysville, KY 1876-1880

Charles Aldis
New York, NY c. 1814

Alexander & Riker
New York, NY 1797-1800
George Alexander and Peter Riker.

Isaac Alexander
New York, NY c. 1844-1853; Wilmington, NC 1855-1860; and
Washington, DC c. 1863-1896



Samuel Alexander
Philadelphia, PA c. 1797-1808 and Richmond, VA c. 1808-1818
Alexander was in the partnerships of Wiltberger & Alexander with John C. Wiltberger in 1797 and Simmons & Alexander 1801-1804.

Samuel Parks Alexander
Charlotte, NC 1837-1843
In the partnership of Trotter & Alexander with Thomas Trotter 1837-1838.

Allcock & Allen
New York, NY c. 1848-1851
Allcock, Allen & Co.
New York, NY c. 1851-1855
Successor to Allcock & Allen. Primarily retailers.

Allen & Rhodes
Cincinnati, OH 1833-1834
Caleb Allen and Thomas F. Rhodes.

Allen, Rhodes & Co.
Cincinnati, OH 1834-1837
Successor to Allen & Rhodes, the partners consisted of Caleb Allen, Thomas F. Rhodes, and John G. Anthony.

C. Allen & Co.
Cincinnati, OH 1837-1840
Brothers Caleb Allen and William H. Allen. In 1846 the brothers formed another partnership, C. & W.H. Allen, which lasted until Caleb's death in 1873.

The T.V. Allen Co
Los Angeles, CA c. 1922-c. 1943
Makers of sterling medals and trophies.

Timothy Allen
Newport, RI  1764-1768
Jeronimus Alstyne (1736-1807)
New York, NY 1787-1797 and Westchester Co., NY 1797-1799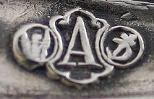 Alvin Mfg. Co. / Alvin-Beiderhase Co. / Alvin Silver Co. / Alvin Corporation
Irvington, NJ 1886-1895; Sag Harbor, NY 1895-1928;
and Providence, RI 1886-c. 1970
This firm began as the Alvin Mfg. Co. in 1886 and was founded by William H. Jamouneau.  With the addition of partners in 1893, including George B. Beiderhase, the name was changed to Alvin-Beiderhase Co, reverting back to the Alvin Mfg. Co. name in 1895.  The company was acquired by Joseph Fahys & Co. in 1897, and the name was changed to the Alvin Silver Co. in 1919.  When it was acquired by Gorham in 1928, the company underwent its last name change to Alvin Corporation.  Gorham ceased production under the Alvin name c. 1970.  Makers of a full line of sterling flatware, holloware, and novelties.
See flatware patterns.

Leander Amadon
Bellows Falls, VT 1846-1878

American Cutlery Co.
Chicago, IL c. 1879-1928
Primarily a maker of steel knives, they did produce a large array of mother of pearl and sterling handled knives. Succeeded by the American Stainless Cutlery Co.

American Metal Crafts
Attleboro, MA 1910s-1940s
Makers of sterling tea infusers, military insignia, and children's flatware under the brand name Amcraft.

American Souvenir Co.
Began in Boston, MA, c. 1895 producing a variety of souvenirs (postcards, figurines, etc.) for the American market. Beginning in 1899, an office was opened in Buffalo, NY, and several souvenir spoons were designed by the company primarily for the 1901 Buffalo, NY, Pan American Exposition; these spoons were manufactured by the Joseph Seymour Mfg. Co. When the Buffalo office closed in 1902, no more spoons were produced.