Draper to Dyer

Joseph Draper
Wilmington, DE 1826-1832 and Cincinnati, OH 1832-1856

Alonzo M. Driscoll
Worcester, MA c. 1850-1854

Benjamin Drowne (Drown)
Portsmouth, NH 1775-1793



Samuel Drowne II (b. 1749 d. 1815)
Portsmouth, NH c. 1770-1804

Thomas Pickering Drowne (Drown)
Portsmouth, NH c. 1804-1819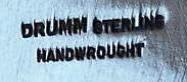 Don Drumm
Akron, OH 1960-Present
Artist and sculptor, best known for working in aluminum.

Levin J. Drummond (1819-1866)
Baltimore, MD  1842-1866
Drummond was succeeded upon his death by his widow, Joanna E. Drummond, who may have also used this mark.  She continued the business until 1868.

William Drysdale
Philadelphia, PA 1816-1856



Abraham DuBois (b. 1751 d. 1807)
Philadelphia, PA 1777-1807
His son Abraham Dubois joined him in his business in 1805.
Upon the senior Dubois' death in 1807, the business was
continued by his widow until 1813.

Benjamin Franklin Du Bois
Chester, PA c. 1857-1860 and Philadelphia, PA 1866-1896

Frederick N. Dubois
Chicago, IL c. 1854-1862

J. & T. Dubois
New York, NY  1795-1797
Brothers Joseph Dubois and Teunis Dubois.


Joseph Dubois
New York, NY 1789-1797
In the firm of J. & T. Dubois 1795-1797.

Philo Dubois
Buffalo, NY 1841-1884

Teunis Denyse Dubois
New York, NY 1795-1799 and Freehold, NJ c. 1800-1810
In the firm of J. & T. Dubois 1795-1797.

Theodore Dubosq
Philadelphia, PA 1829-1850 and 1851-1871 and
San Francisco, CA 1850

William A. Dubosq
Philadelphia, PA 1839-1860

René Roche Duché
New York, NY 1795-1808 and Philadelphia, PA 1820-1825

Duchin Creations
New York, NY 1940s
Makers of a large line of sterling holloware.

James Duffel
Philadelphia, PA c. 1782-1788; Georgetown, SC 1790 and 1798-1801;
New York, NY 1794-1798 and 1801-1802; Fredericksburg, VA
1802-1810; and Lynchburg, VA 1810-1835



Duhme & Co.
Cincinnati, OH 1844-1897
Founded by brothers Herman Duhme and John H. Duhme.  Makers of sterling flatware, holloware and jewelry.
See flatware patterns.

Antoine Dumesnil
Boston, MA c. 1796-1809 and Lexington, KY 1812-1833

Jeremiah Dummer
Boston, MA 1667-c. 1711

John Baptiste Dumoutet 2nd (1761-1813)
Philadelphia, PA 1792-1813; Trenton, NJ 1797-1799; and
Charleston, SC 1802-1813
Silversmith and jeweler.  Businesses were operated simultaneously in Philadelphia and Charleston from 1802 to 1813.  Dumoutet died in 1813, and the businesses were continued by his widow, Elizabeth Dumoutet, until 1823.

Dunbar & Story
Worcester, MA 1838-1844
Rufus Davenport Dunbar and Simeon N. Story.

Rufus Davenport Dunbar
Worcester, MA 1825-1850 and Columbus, OH 1852-1868
Was in the partnerships of Dunbar & Story with Simeon N. Story 1838-1844 and Dunbar & Bangs c. 1848.

Mary Dunhill
This was a  fragrance company founded in the U.K. by Mary Dunhill in 1926.  Sterling perfume bottles, funnels, compacts, and other small items can be found bearing the company name.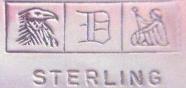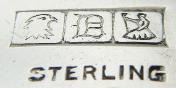 Dunkirk Silversmiths
Meriden, CT c. 1945-1950
Were the successors to the Gold Recovery & Refining Corp. Makers of sterling and silverplated holloware and novelties.

Dunlap & Baker
Manchester, NH 1870-1883
Thomas Dunlap and John N. Baker.

Dunlap & Parker
Manchester, NH 1852-1866
Thomas Dunlap and Amos Parker.

Thomas Dunlap
Manchester, NH 1850-1888
In the partnerships of Dunlap & Parker 1852-1866; Dunlap & Lovejoy with James C. Lovejoy in 1864; and Dunlap & Baker with John N. Baker 1870-1883.

Cary Dunn (b. 1732)
Underhill, VT c. 1765; New York, NY c. 1765-1776 and 1784-1796;
Morristown, NJ 1776-1782; and Newark, NJ 1782-1783
In the firm of Cary Dunn & Son c. 1786-1791.


Bernard Dupuy
Raleigh, NC 1827-1843




Daniel Dupuy (1719-1807)
Philadelphia, PA 1745-1807
Was in the firm of Dupuy & Sons 1772-1773.

Daniel Dupuy, Jr. (1753-1826)
Philadelphia, PA 1772-1777 and c. 1780-1808 and
Reading, PA c. 1777
Was in the firm of Dupuy & Sons c. 1772-1773 and David & Dupuy
with John David, Jr. c. 1798-1808.

Cyrus Durand
Newark, NJ 1814-1815
Shortly after 1815, Durand invented a number of machines for the mechanical drawing of intricate lines which transformed the banknote engraving industry; he spent the remainder of his life devoted to this industry.

Durgin & Burtt
St. Louis, MO 1859-1860
Freeman A. Durgin and Thomas F. Burtt.

Freeman A. Durgin
St. Louis, MO 1858-1911
Was in the partnership of Durgin & Burtt 1859-1860.


William Butler Durgin
Concord, NH  1850-1905
Formed the William B. Durgin Co. in 1853 which would evolve into a major silver manufacturer (see below).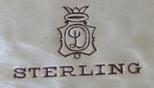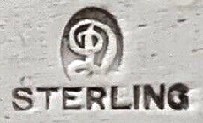 William B. Durgin Co.
Concord, NH  1853-1931
Founded by William B. Durgin; his son George joined the business in 1880.  In 1905, both Durgin and his son died.  The company was sold to Gorham in 1905.  The manufacturing operations were moved to Providence, RI, and merged with Gorham's in 1931.  Gorham continued to produce under the Durgin name through c. 1940.  Major manufacturer of sterling and silverplated flatware and holloware.
See flatware patterns.


Durham Silver Co.
New York, NY c. 1950s-1960s

William C. Dusenberry
New York, NY 1819-1835

B.F. Duvall
Woodford County, KY c. 1860-1870


Joseph Dyar (Dyer) (1795-1850)
Concord, MA 1820-1821 and Middlebury, VT 1822-1850

Dyer & Eddy
Boston, MA c. 1805