Gorham


J. Gorham & Son
Providence, RI 1841-1850
Partnership between Jabez Gorham and his son John Gorham.



Gorham & Co.
Providence, RI 1852-1865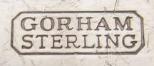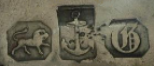 Gorham Manufacturing Co.
Providence, RI  1865-Present
The Gorham Manufacturing Company, what was at one time the largest silver manufacturer in the world, began with a humble start in the form of Jabez Gorham who signed a contract of indenture as an apprentice to Nehemiah Dodge of Providence, RI, in 1806.  In 1813, Gorham hung out his shingle as a jeweler and prospered.
In 1831, Gorham began making coin silver spoons.  Later that year, he joined forces with Henry L. Webster and formed the partnership of Gorham & Webster.  Gorham was in charge of the jewelry department and Webster was in charge of silver goods.
In 1837, jeweler William G. Price was admitted into the firm, changing the name at that time to Gorham, Webster & Price.
Jabez Gorham decided to retire in 1841 and sold out his interest in the business.  The silver part of the business was continued by Henry L. Webster under the name H.L. Webster & Co.  Later that same year, Webster offered to sell the silver business to Gorham.  Gorham would only agree to the purchase if his son, John, would also join the firm.  John agreed, and in 1841, J. Gorham & Son was formed.
The business continued to grow.  In 1847, John, seeing the necessity to expand their operation, went forward with
buying new machinery and the construction of a new building.  The expansion venture was initially supported by Jabez Gorham, but in 1848 he backed out, selling his entire interest in J. Gorham & Son to his son.  He did agree the name of the business could remain as J. Gorham & Son, and John continued to do so until 1850.
In 1850, needing fresh capital for his business, John Gorham went into partnership with his cousin Gorham Thurber under the name Gorham & Thurber.  That same year they began making holloware.  As hand wrought silver gave way to technological advances and new silver making machinery, Gorham's business continued to expand and grow.
Another cousin, Lewis Dexter, Jr., was invited to join the firm in 1852, and the name was then changed to Gorham & Co.  Gorham acquired the first steam powered drop press to be used for the manufacture of flatware and installed it in their manufactory around 1854.  This machine was to revolutionize the flatware industry, and because Gorham was the first to have it, it enabled Gorham to take a dominant position in the silver flatware industry in America.  John Gorham would continue to expand mechanized production methods, always remaining in the forefront of the industry.
In 1856, Gorham hired George Wilkinson, who remained as Gorham's chief designer until 1891.  Gorham's product line continued to expand.
Also in 1856, a distribution outlet was opened in Providence under the name of Gorham, Co. & Brown, selling Gorham silver goods and other luxury items.  John Gorham, Gorham Thurber, and Henry T. Brown were the partners.  This business continued until 1878 when it became Henry T. Brown & Co. and evolved into what is today the Tilden-Thurber Co.
In 1860, John Gorham travelled to Europe and found the best silver craftsmen and designers, and lured many away from their employers to go work for Gorham & Co.
The company incorporated in 1865, becoming the Gorham Manufacturing Company.
Also in 1865, Gorham began producing electroplated wares.
In 1868, Gorham announced it would no longer be making their solid silver goods in coin silver, but instead would adopt the English sterling standard of .925 fine.  Sterling had been the standard in England since about 1300.  When Gorham switched over to sterling, most other silver manufacturers in the U.S. quickly followed suit.
In 1873, Gorham opened a retail store in New York City.  It was closed in 1877 during an economic depression.
John Gorham retired as head of the company in 1878.
Gorham hired designer C. Antoine Heller in 1880, whose designs were an immediate tour de force in the industry.
Englishman William C. Codman became chief designer for Gorham in 1891, and his designs and artistic achievement would cement Gorham as being one of the top silver manufacturers in the world.  The Chantilly flatware pattern, which is considered the most popular pattern in the world and continues to be Gorham's top seller, was designed by Codman in 1895.  Codman would obtain fifty-five flatware design patents before his retirement in 1914.
In 1896, Gorham began an expensive and prestigious art line of completely handmade silver wares.  This line was unnamed at the time; in 1900 it was given the name Martelé.  After 1897, Martelé pieces were made with a higher silver content than sterling.  From 1898 to 1904 pieces were .950 fine, and from 1905 they were .9584 fine.  The higher silver content made the silver more malleable and easier to work by hand.  Production of the Martelé line would continue until 1912, but commissioned pieces continued to be made through the 1920s.  The Martelé line is
considered Gorham's top achievement in the world of American decorative arts.
Gorham introduced the Athenic line in 1901.  It was another art line meant to compliment Martelé, but where Martelé was entirely made by hand, Athenic was both hand and machine made.  Athenic also often involved combining silver with other metals and materials such as glass and ivory.  The line was discontinued around 1915.
A retail store was opened on Fifth Avenue in New York City in 1905.  It merged with Black, Starr & Frost in 1929 to become Black, Starr and Frost-Gorham and later Black, Starr & Gorham.  Gorham sold its interest in this business in 1962, and the name became Black, Star & Frost, Ltd.
Gorham acquired Wm. B. Kerr & Co. which continued to produce silver goods under the Kerr name until 1927.
Gorham acquired the Mt. Vernon Company Silversmiths and the Roger Williams Silver Co. in 1913.  The Mt. Vernon name continued until 1923.
Gorham acquired the Whiting Manufacturing Co. and the William B. Durgin Co. in 1924.  Silver wares continued to be made under the Whiting name until 1926 and the Durgin name until 1931.
Danish silversmith Erik Magnussen was hired as a Gorham designer in 1925 and remained until 1929.  During this time he would launch Gorham into the world of modernist, Cubic, and geometric designs.
Gorham acquired the Alvin Silver Company in 1928.  It's name was changed to the Alvin Corporation and remained a separate entity.
Gorham acquired the McChesney Company in 1931.
Due to WWII and the prohibition by the government in the use of copper and its alloys, the production of electroplated wares was were temporarily halted in 1941.  Only a small amount of silver goods were made during this period.   Gorham produced small arms parts and machinery components for the war effort.  After the end of the war in 1945, normal production resumed.
Gorham acquired the Quaker Silver Co. in 1959, the Friedman Silver Co. in 1960, and Graff, Washbourne & Dunn in 1961.
In 1967, Gorham was acquired by Textron.  In 1991, the company was sold to the Brown-Forman Corporation.  In 2005, Gorham was sold to Lenox.  Lifetime Brands acquired Gorham's sterling silver division in 2007.
See flatware patterns.
Timeline:
Gorham & Webster
Gorham, Webster & Price
J. Gorham & Son
Gorham & Thurber
Gorham & Co.
Gorham Manufacturing Co.
Gorham Corp.
.
1831-1837
1837-1841
1841-1850
1850-1852
1852-1865
1865-1961
1961-Present

Gorham & Webster
Providence, RI 1831-1837
Jabez Gorham and Henry L. Webster.

Gorham, Webster & Price
Providence, RI 1837-1841



Gorham & Thurber
Providence, RI 1850-1852
John Gorham and Gorham Thurber.



Miles Gorham (b. 1747 d. 1847)
New Haven, CT 1790-1840