Hansel to Hawley

Hansel, Sloan & Co.
Hartford, CT 1889-1918
Charles R. Hansel and Frederick H. Sloan. Primarily retailers.

James Hansell
Philadelphia, PA 1816-1859



N. Harding & Co.
Haverhill, MA 1851-1889
Founded by Newell Harding, Francis L. Harding, Alexander H. Lewis and Lewis Kimball.



William Haverstick, Jr. (b. 1780 d. 1859)
Lancaster, PA 1803-1810 and Philadelphia, PA 1810-1813



Newell Harding (b. 1799 d. 1862)
Boston, MA 1822-1862
Was in the partnership of N. Harding & Co. 1851-1862.  Master to
William B. Durgin.

William Hardman
Lexington, KY c. 1839-1840


Hardy & Hayes
Pittsburgh, PA 1887-2003
Founded by J. Alex Hardy and Harry B. Hayes.  Jewelers and silversmiths.

Johnson Arad Hardy
Bradford, VT 1827-1874


Stephen Hardy
Boston, MA and Portsmouth, NH c. 1803-1827
Was an apprentice to Paul Revere.

Harland & Blair
New Orleans, LA 1830-1834
Henry Harland and Daniel Blair.


Henry Harland
Boston, MA c. 1813; Norwich, CT 1815-1834; and
New Orleans, LA c. 1834-1841
In the partnerships of Harland & Bliss with H. Bliss in 1830 and then Harland & Blair with Daniel Blair 1830-1834. Also used the mark of
his father, Thomas Harland.


Thomas Harland
Norwich, CT c. 1773-1807
Silversmith and watchmaker. Harland mark also used by son Henry.

Jacob Harley
Philadelphia, PA 1851-1871
Was in the partnership of Stauffer & Harley 1852-1861.


Henry Harper
Philadelphia, PA c. 1857-1887

Samuel Harrington
Amherst, MA 1841-c. 1852
Was in the partnership of Prevear & Harrington with Edward Prevear 1841-1842.

Harris & Lemon
Louisville, KY  1830-1832
John C. Harris and James I. Lemon.  Succeeded by Lemon & Kendrick.


Harris & Stanwood
Boston, MA 1839-1842 and 1847-1849
William Harris and Henry Burrill Stanwood.  George B. Foster was a member of the firm 1842-1847, changing the name to Harris, Stanwood & Co. during this period.  A precursor to Shreve, Crump & Low Co.


Herman J. Harris
Troy, NY c. 1833-1852
In the partnership of Harris & Wilcox c. 1844-1852.

R. Harris & Co.
Washington, DC 1874-c. 1945
Manufacturing jewelers and silversmiths.

Hart & Brewer
Middletown, CT 1800-1803
A partnership of Judah Hart and Charles Brewer.

Hart & Smith
Baltimore, MD 1814-1816
William Hart and John Smith.


Hart & Wilcox
Norwich, CT  1805-1807
Judah Hart and Alvan Wilcox.

Eliphaz Hart
Norwich, CT c. 1810-c. 1825
Was in the partnerships of Hart & Hart with his brother Judah Hart c. 1810-1816.



Judah Hart (Hartt)
Berlin, CT c. 1803; Middletown, CT c. 1803-1804; Norwich, CT c. 1805-1807; Griswald, MD c. 1816; and Brownsville, OH c. 1822
Involved in a number of partnerships:
Hart & Brewer with Charles Brewer 1800-1803.
Hart & Bliss with Jonathan Bliss 1803-1804.
Hart & Wilcox with Alvan Wilcox 1805-1807.
Hart & Hart with brother Eliphaz Hart c. 1810-1816.

Walter Ward Hart
Freehold, NJ 1829-1849 and Philadelphia, PA 1849-1865

William Hart
Baltimore, MD 1814-1816 and Philadelphia, PA before 1814 and 1818-1824
Was a partner in the firm of Hart & Smith with John Smith 1814-1816.


Hartford Sterling Co.
Philadelphia, PA 1900-1930s
Makers of some sterling holloware; mostly silverplate.

Harting & Kroesing
Lexington, KY 1867-c.1872
William Harting and Adolph Joseph Kroesing.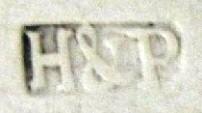 Hartman & Phillips
Winchester, VA  1802-1816
Daniel Hartman and William Phillips.
Philip Hartman
Philadelphia, PA  1813-1814

Harvey & Otis
Providence, RI 1884-2003
Founded by Henry W. Harvey and Samuel Otis.  Makers of sterling flatware and souvenir spoons and gold masonic and fraternal jewelry.

Barnabas Dodge Haskell
Boston, MA 1832-1835 and Haverhill, MA c. 1840-1883

Henry C. Haskell
New York, NY c. 1875-1914
Jewelers; made small sterling novelty items.

William E. Haskins
Boston, MA 1829-1831 and Providence, RI 1832-1886
Was in the partnership of W.E. & R. Haskins with Ralph Haskins
1829-1830.

John Hasselbring / Hasselbring Mfg. Co.
Brooklyn, NY c. 1890-c. 1955
Founded by John Hasselbring c. 1890 as makers of sterling holloware and novelties.  Incorporated in 1911 as the Hasselbring Mfg. Co. and purchased by the Crown Silver c. 1955.Co

Benjamin B. Hastings
Cleveland, OH 1830-1846; Sacramento, CA c. 1850-1852; and
New York, NY c. 1867-1882

David B. Hastings
Boston, MA 1847-1902
Was in partnership with his brother Joshua Hastings under the name of D.B. & J. Hastings 1855-1891.

H. Hastings
Cleveland, OH c. 1815-1820
Robert Haughton
Natchez, MS c. 1816-1825
Was in the partnership of Haughton & Downs with Adney C.
Downs 1820-1821. Went into the dry goods business in 1825.

Hausmann's
New Orleans, LA
This firm began when Gottlieb Lautenschlager and Henry Hausmann formed the partnership of Lautenschlager & Hausmann in 1870.  The partnership dissolved in 1873 and Hausmann went to work for Adolphe Himmel, reopening his own jewelry store in 1875.  When Himmel died in 1877, Hausmann purchased the silverplating part of Himmel's business.  Himmel died in 1878 at the age of 33, leaving his widow, Theresa Hausmann, to take over the business.  The business progressed as follows:
T. Hausmann & Son 1890-1893.
T. Hausmann & Sons 1893-1906
T. Hausmann & Sons, Ltd. 1906-c. 1917.
Hausmann's, Inc. c. 1917-c. 1985.

John D. Haverstick
Lancaster, PA c. 1805-1809; Carlisle, PA 1809-1825; and
Erie, PA c. 1826

Matthias Haverstick
Chambersburg, PA c. 1796 and Lancaster, PA c. 1799-1810



William Haverstick, Sr. (b. 1756 d. 1823)
Philadelphia, PA c. 1778-1793 and Lancaster, PA 1795-1819
Marks used by both Jr. and Sr. Haverstick

HavOne
Brand name of cigarette cases made by the Elgin American Mfg. Co.


Hawkes Company
New York, NY 1880-1962
Well known maker of cut glass wares, including many silver mounted items.  Most of the silver mounts were made by Gorham and Durgin beginning in the 1880s.  By 1913, Hawkes was making their own mounts.

Hawley & Leach
Utica, NY 1853-1856
A partnership between Horace Harlow Hawley, George Leach and Almon Leach.

John Dean Hawley
Cazenovia, NY 1841-1844 and Syracuse, NY 1844-1890
Hawley was involved with a number of partnerships:
Willard & Hawley with William W. Willard 1844-1846 and
1848-1869.
Willard, Hawley & Co. 1846-1848.
J. Dean Hawley, Son & Co. 1889-1890.