Hoyt to Hyman

Hoyt, Badger & Dillon
New York, NY 1859-1865
A partnership between Seymour Hoyt, James Badger, and Joseph Dillon.

George A. Hoyt & Son
Albany, NY 1845-1846
A partnership between George Anson Hoyt and his son George Barnum Hoyt.

S. Hoyt & Co.
New York, NY 1851-1859
Seymour Hoyt, James M. Badger, and Joseph J. Dillon.


George Anson Hoyt
Albany, NY 1819-1846
Was in the partnerships George A. Hoyt & Co. 1829-1833; Hoyt & Kippen with George Kippen c. 1830; Boyd & Hoyt with William Boyd 1830-1832; and George A. Hoyt & Son with George B. Hoyt 1845-1846.

George Barnum Hoyt
Albany, NY  1845-1850
Was in the partnership of George A. Hoyt & Son with his father George A. Hoyt 1845-1846.

Henry Hoyt
New York, NY 1828-1836


James Albert Hoyt
Troy, NY 1838-1850 and Saratoga Springs, NY c. 1855-1887


Seymour Hoyt
New York, NY 1817-1865
Involved with the partnerships of Whitney & Hoyt with Ebenezer
Whitney 1832-1841; S. Hoyt & Co. with William H. Hoyt 1842-1843
and 1854-1859; and Hoyt, Badger & Dillon 1860-1865.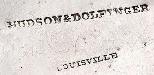 Hudson & Dolfinger
Louisville, KY 1853-1856
Henry Hudson and Jacob Dolfinger.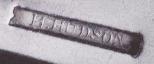 Henry Hudson
Louisville, KY 1841-1888
In the partnership of Hudson & Dolfinger with Jacob Dolfinger
1853-1856.

Haddon Hufford
Irvington, NY and Frenchtown, MT c. 1995-Present

Joseph Huggins
Philadelphia, PA 1837; Baltimore, MD 1840-1842;
Washington, DC 1850; Richmond, VA 1855

Hughes & Hall
Middletown, CT c. 1840-1850

Christopher Hughes
Baltimore, MD 1771-1790
Hughes was a partner in the business of Christopher Hughes & Co. with John Carnan 1773-1774.

Edmund Hughes
Hampton, CT 1804 and Middletown, CT 1805-1827
Was involved in a number of partnerships:
Ward & Hughes with John Ward 1805-1806.
Hughes & Bliss with Jonathan Bliss in 1806.
Hughes & Francis with Julius C. Francis 1806-1809.

Jeremiah Hughes
Annapolis, MD c. 1805-1820

William Hughes
Baltimore, MD 1773-1791

Daniel S. Hulett
Schenectady, NY c. 1833-1849
Hulett's retailer mark is shown at right.

Hull Silver
Stainless steel flatware maker who made many patterns under
different brand names. Hull made one sterling pattern called
John Hull c. 1935 in honor of one of the men who opened the first mint in the American colonies in 1652.

Gurdon W. Hull
Wallingford, CT c. 1855-1866
Went on to become one of the founding partners of Simpson, Hall, Miller & Co., and would continue to be associated with the firm until his death in 1894.


John Hull
Boston, MA c. 1647-1683
In the parntership of Hull & Sanderson with Robert Sanderson 1652-1683.


Richard Humphreys
Wilmington, DE 1771-1772 and Philadelphia, PA 1772-1791

T.B. Humphreys & Son
Richmond, VA 1849-1855
Thomas B. Humphreys, Jr. and son Thomas F. Humphreys.

Hunt & Clark
Bennington, VT 1795-1803
Jonathan Hunt and Horatio Clark.

Hunt-Hallmark Co.
New York, NY 1954-?
A merger between the Hunt Silver Co. and Hallmark Silversmiths.

Hunt Silver Company
New York, NY and Chicago, IL 1930s-1954
Makers of sterling holloware.

Smith Hunsicker
Shepherdstown, VA 1832-1835

Huntington & Laboyteaux
Cincinnati, OH 1850-1856
William C. Huntington and Isaac N. Laboyteaux.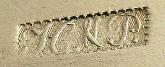 Huntington & Packard
Springfield, MA c. 1811-1814
A partnership between Richard Huntington and Jonathan Packard.

Huntington & Wynne
Charlotte, NC 1827-1828
John Huntington and Robert Wynne.

Elihu Hill Huntington
Saint Albans, VT 1862-1880
Huntington was in the firm of Wyman & Huntington with his master Charles Wyman 1862-1868.  Silversmith and jeweler.

Philip Huntington
Norwich, CT 1795-1825

Richard Huntington
Springfield, MA 1811-1823 and Utica, NY 1823-1855
Was in the partnership of Huntington & Packard c. 1811-1814.

S. Huntington
Portland, ME 1850s

Lemuel Huntoon, Jr.
Springfield, MA 1840-1862 and Lawrence, MA 1864-1886
Was in the firm of L. Huntoon & Son with son George L. Huntoon c. 1880-1886.


Benjamin Hurd (1739-1781)
Boston, MA c. 1761-1769 and Halifax, NS 1769-1781



Jacob Hurd
Boston, MA 1723-1755 and Roxbury, MA 1755-1758

Stephen Hussey
Baltimore, MD 1818-1830

Nicholas Hutchins
Baltimore, MD 1810-1829
James Hutchinson
Martinsburg, VA (now WV) 1823-1854
Silversmith and watchmaker.

Samuel Hutchinson
Philadelphia, PA 1828-1839


Isaac Hutton
Albany, NY 1790-1817
Was in the partnership of Folsom & Hutton with John Folsom
1786-1790 and later the partnership of I. & G. Hutton with
George Hutton 1796-1817.

John Strangeways Hutton
New York, NY 1720 and Philadelphia, PA 1735-c. 1781
Hutton became semi-retired in the 1740s, but would continue to occasionally produce silver goods through the at least 1781.

Nathaniel M. Hyatt
Eufaula, AL 1842-1883


Hyde & Goodrich
New Orleans, LA 1828-1861
Founded by James Nevins Hyde and Charles Whiting Goodrich.  Hyde withdrew in 1837 and Goodrich continued with under the same name until his death in 1859.  Partners of Goodrich continued the firm until 1861.  Primarily importers and retailers, it is believed James Hyde did some silversmithing.  Succeeded by Thomas, Griswold & Co.


Hyde & Nevins
New York, NY 1813-1820
James Nevins Hyde and Rufus L. Nevins.

Henry S. Hyman
New York, NY 1821-1832 and Richmond, VA 1835-1856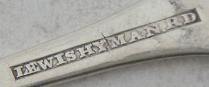 Lewis Hyman
Richmond, VA 1845-1867 and New York, NY 1867-1899
Was a partner in the business of Hyman & Co. 1845-1846 and Hyman & Pyle 1855-1856.