Ingraham to Ives

Barton Ingraham (b. 1782)
Providence, RI  1801-1807
Partnered with William Greene in the firm of Ingraham & Greene
1806-1807.

Joseph Holt Ingraham (1752-1841)
Portland, ME  1768-1782

Benjamin Inman
Philadelphia, PA 1814-1819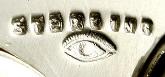 J.T. Inman Co.
Attleboro, MA  1890-Present
Began as Lindsay & Inman in 1882 and succeeded by J.T. Inman & Co. in 1890.  Acquired many souvenir spoon dies from the Watson Co.  Sold to Whiting & Davis in 1964 and organized as the J.T. Inman Co. in 1971.  Makers of sterling baby items and novelties.
Website.

International Commonwealth Silver Co.
New York, NY 1914-1922
Successor to International Silver Deposit Works.







International Silversmiths / International Silver Co.
Meriden, CT  1898-Present
The company was organized by the consolidation of sixteen
separate companies into one conglomerate. Some of the companies involved were the Meriden Britannia Co., Holmes & Edwards, and Rogers & Brother.  International eventually acquired a large number of silver companies, including Simpson, Hall & Miller and LaPierre Mfg. Co. Now owned by Lifetime Brands. A major manufacturer of a full line of sterling and silverplated flatware, holloware, and novelties.
See flatware patterns.

Irvine & Jachens, Inc.
San Francisco, CA 1926-c. 1950 and Daly City, CA c. 1950-Present
With roots back to 1886 when J.C. Irvine set up shop, Irvine & Jachens was formed in 1926 as a successor to the J.C. Irvine Co.  Well known emblem, badge, and buckle makers.


Ives & Curran
Springfield, IL 1842-1847 and 1850-1854
John G. Ives and Isaac B. Curran.