Johnston to Justis

Johnston & Boullt
Hagerstown, MD 1846-1851
William Johnston and Thomas A. Boullt, watchmakers, clockmakers and jewelers.

Johnston & Crowley
Philadelphia, PA c. 1828-1833
Robert Johnston and C. Crowley.

Arthur Johnston
Hagerstown, MD Late 1790s-1846

Edmund J. Johnston
Macon, GA  1845-c. 1878
Was in the partnership of W.B. Johnston & Brother with his brother William B. Johnston 1845-1849 and E.J. Johnston & Co. with George S. Obear 1853-1868.

George C. Johnston
Frederick, MD 1852-1863


J.H. Johnston & Co.
New York, NY c. 1889-1897
Makers of sterling novelties, souvenir spoons and jewelry.

Robert Johnston (Johnson)
Philadelphia, PA c. 1823-1862

Johonnot & Smith
Windsor, VT c. 1815
William B. Johonnot and Richard Ransom Smith.

William Johonnot (b. 1779 d. 1838)
Windsor, VT c. 1806-c. 1820
In the partnership of William & William Johonnot with
William B. Johonnot c. 1806.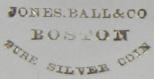 Jones, Ball & Co.
Boston, MA 1853-1855
Successor to Jones, Ball & Poor. Precursor to
Shreve, Crump & Low.



Jones, Ball & Poor
Boston, MA  1846-1853
Founded by George B. Jones, True M. Ball and Nathaniel C. Poor.
Became Jones, Ball & Co. in 1853.
Jones & Hutton
Wilmington, DE c. 1843
Philip Jones and Samuel Hutton.

Jones, Lows & Ball
Boston, MA 1835-1841
Partnership of John Belknap Jones, Frances Low, John J. Low,
and Samuel Ball.


Jones, Shreve, Brown & Co.
Boston, MA 1855-1858
Precursor to Shreve, Brown & Co.


Albert Jones
Springfield, MA 1817-1821 and Greenfield, MA c. 1825-1838
In partnership with Elisha Munn, Jr. in the business of Munn & Jones 1827-1828.

Elisha Jones
New York, NY c. 1825-1829
In the firm of Boyce & Jones with Gerardus Boyce 1825-1829.






John Belknap Jones / J.B. Jones & Co.
Boston, MA  1813-1834
A partner in the firms of:
Baldwin & Jones with Jabez Baldwin 1813-1819.
John B. Jones & Co. with Samuel S. Ball 1833-1834.

Prince H. Jones
St. Louis, MO 1842-c. 1864
Was in the partnerships of Jones & Wilson with Alfred Wilson
c. 1842 and later Benj. F. Crane & Co. c. 1858-1861.

William Jones (1694-1730)
Boston, MA 1715-c. 1720 and Marblehead, MA c. 1720-1730


William P. Jones (b. 1827)
Newburyport, MA 1847-1903
Partnered with Anthony Towle (who would go on to form A.F. Towle & Son) in the firm of Towle & Jones 1857-1870.  Edward Towle joined and the name was changed to Towle Jones & Co. 1870-1873.  The lower mark is from a spoon made by Towle Silversmiths and designed by Jones.


Rix Jordan
Richmond, VA 1812-1840; Essex County, VA 1840-1841;
and Hampton, VA 1850-1857
Silversmith and watchmaker.

Joseph G. Joseph
Cincinnati, OH 1834-1844

Josten's
Minneapolis, MN 1897-Present also in Owatonna, MN 1943-1977
Manufacturing jeweler; makers of military insignia.

Peter Joubert
Philadelphia, PA 1806-1830


Hiram Judson
Syracuse, NY 1824-1854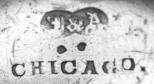 Juergens & Andersen
Chicago, IL 1857-Present
Successor to Juergens & Son. Founded by silversmith Frederick Juergens, his son Paul Jurgens, and jeweler Sebastian Andersen. Produced quality silver goods until 1871 when they became manufacturing jewelers.

Justis & Armiger
Baltimore, MD 1878-1892
John C. C. Justis and James R. Armiger. Successor to Justis & Co.


A.R. Justice Co.
Philadelphia, PA 1881-1936


Swen (Swan) Justis (Justice)
Richmond, VA 1810-1830