Lipman to Lytle


Lipman Bros.
Toronto, ON, Canada 1940-1960s

David Mason Little
Salem, MA c. 1895-1923



William Coffin Little
Newburyport, MA c. 1766-1790 and
Amesbury, MA 1790-1801

W.A. Lloyd
Philadelphia, PA c. 1810

Paul Lobel
New York, NY 1940-1970s
Known primarily for modernist jewelry, Lobel also created sterling holloware and small items.
Jonathan L. Locke
Titusville, PA 1950-1968
Acquired shop from Joel F. Hewes upon Hewes' retirement.  Maker of handwrought sterling holloware.
P.H. Locklin & Sons
New York, NY 1892-1930
Makers of sterling holloware and novelties.


Alfred Lockwood (1797-1844)
New York, NY 1816-1844
Silversmith, jeweler and watchmaker.

Francis H. Lockwood (b.c. 1814-1892)
New York, NY 1836-1854 and 1875-1892
Was in the partnership of Lockwood & Jennings with Oscar S. Jennings 1837-1838.
Adam Logan
New York, NY c. 1803-1833

V. Lollo
New York, NY 1895-1950s

Barthelemy Edward Lombard (1800-1830)
Charleston, SC  1820-1830

Robert M. Long
Buffalo, NY 1832-1837

Thomas Long Co.
Boston, MA 1878-Present
Best known as Long's Jewelers, they produced sterling flatware and holloware in the 1930s to 1950s; the use of the trademark name Longcraft began in 1946.


William Long
Philadelphia, PA 1807-1822

Henry Longley (b.c. 1783-1811)
New York, NY  1808-1810 and 1811; Charleston, SC 1810-1811

Ritter Longley (1789-1825)
Charleston, SC 1810-1811; New York, NY 1811; and New Providence, Banahas 1813-1825


Guy Loomis / G. Loomis & Co.
Sheffield, MA 1816-1837; Erie, PA 1837-1853, 1854-1863, and 1867-1870; and Pleasantville, PA 1865
Operated under the name of G. Loomis & Co. 1847-1852.

Warham P. Loomis
Frankfort, KY 1817-1870
In the partnership of Treat & Loomis in 1817 and then Loomis &
Ralph with Samuel Ralph c. 1819.


Benjamin Lord (1770-1843)
Pittsfield, MA 1796; Rutland, VT 1797-1830; and
Athens, GA 1831-1843
In the partnership of Lord & Goddard with Nicholas Goddard
1797-1808.

Jabez Choate Lord
New York, NY 1822-1835
In the firm of Lord & Smith with George Smith 1822-1829.

Elpalet Loring
Barnstable, MA c. 1761-1768


Joseph Loring
Boston, MA c. 1764-1815

Robert Lovett
Philadelphia, PA 1818-1824 and New York, NY 1824-1874


Daniel Low & Co.
Salem, MA  1896-1995
Founded by Daniel Low and his son Seth F. Low.

Daniel Low
Salem, MA 1867-1911
Maker and retailer of sterling vanity items, novelties, and jewelry.
Designed the Salem Witch Spoon, which launched the souvenir spoon collecting industry in the U.S.  Formed Daniel Low & Co. in 1896 (see above).

John J. Low & Co.
Boston, MA 1828-1835
John J. Low and Francis Low.
John J. Low
Boston, MA and Salem, MA 1820-1853
Involved with a number of important firms:
Putnam & Low with Edward Putnam 1822-1828.
John J. Low & Co. 1828-1835.
Lows, Ball & Co. 1835-1841 which became Lows, Ball & Poor 1842-1846.
Joshua Lowe (b.c. 1784)
New York, NY 1828-1837
Silversmith and jeweler.



Lowell & Senter
Portland, ME 1836-1869
Partnership of Abner Lowell and William Senter.

Joseph Lower
Philadelphia, PA 1809-1858


Edward Lownes (1792-1834)
Philadelphia, PA 1816-1834
Was a partner in the firm of Lownes & Erwin with John Erwin
1816-1817.


Joseph Lownes (1758-1820)
Philadelphia, PA 1780-1820

Josiah H. Lownes
Philadelphia, PA 1816-1822
In the partnership of J. & J.H. Lownes with his brother Joseph Lownes, Jr. 1817-1820.


Lows, Ball & Co.
Boston, MA 1842-1846
Francis Low, John J. Low, True M. Ball and Nathaniel Poor.  A precursor to Lows, Ball & Poor.

Ludwig, Redlich & Co.
New York, NY  1891-1895
Adolph Ludwig and A. Alec Redlich.  Succeeded by Redlich & Co. when Ludwig left the business in 1895.


Joseph Lukey
Pittsburgh, PA 1819-1822

Lullaby Sterling
1928-Present
A division of the Alvin Corporation that offers holloware and baby items.

C. Lumsden & Son
Richmond, VA 1881-1932
Charles Lumsden and son David Edward Lumsden. Charles died in 1886 and another son, Arthur L. Lumsden, then joined the business.

Charles Lumsden
Petersburg, VA 1829-1859 and Richmond, VA 1859-1886
Was in the partnership of C. Lumsden & Co. c. 1834 and later in the partnership of Lumsden & Shortt with William E. Short
1856-1857. Joined with his son Charles Lumsden as C. Lumsden & Son in 1881, which continued in business
after Lumsden's death in 1886 until 1932.



Lunt Silversmiths
Greenfield, MA  1901-2009
Founded by George E. Rogers, George C. Lunt and William C.
Bowlen when they purchased A.F. Towle & Son.  Went by the name Rogers, Lunt & Bowlen from 1901 until 1935 and Lunt Silversmiths after 1935.  The RLB mark was used 1901 to 1935 and the Treasure trademark was used from 1921 to 1954.  Lunt's name and inventory were sold to Reed & Barton in 2009, and filed for bankruptcy the following year.  Major manufacturer of a full line of sterling and silverplate flatware, holloware, and novelties.

Lawrence K. Lupp
New Brunswick, NJ c. 1806

Peter Lupp (1724-1807)
New Brunswick, NJ  1760-1807

John G. Luscomb
Boston, MA 1813-1825 and Salem, MA 1825-1869

Lustern
A trademark of the Louis Stern Co.

Nita Lustig
Chicago, IL 1950s Modernist studio jeweler.


Roland Lyman
Lowell, MA c. 1832-1871



John Lynch (1761-1848)
Baltimore, MD  1786-1848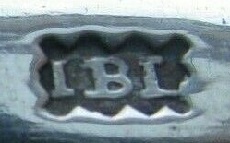 John Burt Lyng (b.c. 1740)
New York, NY  1759-1785

William H. Lyon
Newburgh, NY 1868-1920
Primarily a retailer, Lyon patented and made Washington Headquarters Souvenir spoons and utensils.  Lyon died c. 1899, and the business was continued under his name until 1920.  The mark shown is their retailer's mark.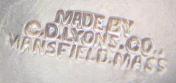 C.D. Lyons & Co. / C.D. Lyons Co.
Mansfield, MA 1888-c. 1920 and Attleboro, MA c. 1920-1940
Founded by Charles D. Lyons and Frederick Paine.

Robert A. Lytle (b.c. 1809-1864)
Baltimore, MD  c. 1825-1864