Naco to Nye


William Nagel
Paducah, KY  1865-1891
Watchmaker and jeweler. Nagel's business continued after 1891 under his name, but run by his son Frederick W. Nagel and H.L. Meyer until c. 1903.




Napier Co.
Meriden, CT 1920-1999
Successor to E.A. Bliss, Inc. and Napier-Bliss.  In the 1980s Napier was sold to Victoria & Co., a giant in the jewelry business, who closed down Napier in 1999.  Makers of sterling and silverplate novelties and jewelry.



National Silver Co.
New York, NY 1904-1970s
Founded by Samuel E. Bernstein.  Acquired Cheltenam & Co. Ltd.
in the 1940s, F.B. Rogers in 1955, and the Ontario Mfg. Co. in 1956.
Makers of sterling and silverplated flatware and holloware.
See flatware patterns.


Daniel Neall
Milford, DE 1809-1811; Bensalem, PA 1812-1824; and
Philadelphia, PA 1824-1831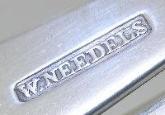 William Needels (Needles)
Easton, MD 1798-1818
In the partnership of Bowdle & Needles with James Bowdle 1798-1807.


Paul Negrin (b. 1798)
Charlottesville, VA 1820-1823; Nashville, TN 1823-1846; and Huntsville, AL c. 1828


John Nelson (1735-1789)
Portsmouth, NH 1755-1772; Lee, NH 1773-1774; Barnstead, NH
c. 1776; and Gilmanton, NH 1779-1789

John Nelson
Portsmouth, NH c. 1787-1818

Mark Nelson
Portsmouth, NH 1753-1785

R. & J. Nelson
Dunkirk, NY 1850-1858 and Davenport, IA (branch) 1856-1858.

Nevius Company
New York, NY 1897-c1907
Makers of sterling novelties and jewelry and sterling antique reproduction holloware.


Edwin Comfort Newbury
Brooklyn, CT 1828-c. 1860


Newburyport Silver Co.
Keene, NH 1905-1914
Makers of sterling and silverplate flatware, holloware, and souvenir spoons.
See flatware patterns.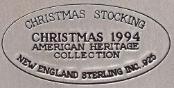 New England Sterling, Inc.
Attleboro, MA  c. 1970-2000

Newman's Silver Shop
Reno, NV c. 1844-1875
Western silversmiths.

Newport Sterling
A trade name of the Gorham Corporation.

Niagara Silver Co.
Niagara Falls, NY 1893-c. 1930
Formed as a branch of the Carter-Crume Co.  Niagara acquired the flatware department of the Pairpoint Mfg. Co. in 1900.  Acquired by Wm. A. Rogers, Ltd. around 1904 which in turn was acquired by Oneida in 1929.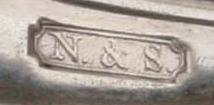 Nichols & Salisbury
Charleston, SC  1842-1846

David B. Nichols / D.B. Nichols & Co.
Savannah, GA 1815-1839 and 1843-1855
Formed the partnership of D.B. Nichols & Co. with John P. Smith in 1820.  Smith died two months later, but Nichols continued to use the D.B. Nichols & Co. name through to 1830. Nichols sold his business in 1839 and moved north, returning to Savannah in 1843 to resume his  business.

Hiram M. Nichols
Concord, NH c. 1840-1850 and Lyndon, VT 1850-1880

Robyn Nichols
Kansas City, MO 1975-Present
Maker of handwrought sterling flatware, holloware and
jewelry.
Website.


William Stoddard Nichols
Newport, RI 1808-1871

John Nicklas
Baltimore, MD 1853-1905


James Ninde
Baltimore, MD  c. 1799-1858
Silversmith and watchmaker.

Beverly Noel (b. 1799)
Frankfort, KY 1822-1835 and Louisville, KY c. 1838

Theodore Noel
Frankfort, KY c. 1830 and/or Memphis, TN 1849-1878
Several references cite a Theodore Noel working in Frankfort, KY, around 1830 and a Theodore Noel working in Memphis, TN,
1849-1860.  These references state this may or may not be the same person.

Norbert Mfg. Co.
New York, NY c. 1950

Nehemiah Norcross
Boston, MA 1796-1800



William Burnham North / W.B. North & Co.
New Britain, CT c. 1820-1838 and
New York, NY 1820-1826 (concurrent)
Went by W.B. North & Co. 1822-1826.  Was in the partnership of
North & Churchill with William A. Churchill 1831-1838.

David Northee (Northey)
Salem, MA c. 1730-1778

Abijah Northey
Salem, MA c. 1770-c. 1798

Northwestern Silver Ware Manufacturing Co.
Chicago, IL c. 1865-1871

Norton & Freeman
East Hartford, CT c. 1820-1830




Norton & Seymour / Norton, Seymour & Co.
Syracuse, NY
The partnership of Norton & Seymour consisted of Benjamin R. Norton and Joseph Seymour and operated 1849-1854.  David Hotchkiss was added as a partner, changing the name to Norton, Seymour & Co. 1854-1857.

Benjamin R. Norton
Palmyra, NY c. 1841-1842 and Syracuse, NY c. 1844-1859
Norton was a partner in a number of businesses:
Hotchkiss & Norton with David Hotchkiss 1841-1849.
Norton & Seymour with Joseph Seymour 1849-1854.
Norton, Seymour & Co. with Joseph Seymour and David Hotchkiss 1854-1857.
B.R. Norton & Co. 1844-1849.

J.H. Norton
Hartford, CT c. 1820-1830


William Nost Co.
New York, NY c. 1912-1920s
Founded by William Nost. Makers of sterling holloware.

Falick Novick
Chicago, IL 1909-1957
Maker of handwrought Arts & Crafts copper and silver bowls and some flatware.

Nowlan & Young
Petersburg, VA 1853-1854
Thomas Nowland and James Thomas Young.  Jewelers and silversmiths.


Thomas Nowlan
Petersburg, VA 1848-1862 and Richmond, VA 1865-1897
Was in the partnerships of Nowlan & Berry 1853-1854; Nowlan &
Young with James T. Young 1853-1854, and Nowlan & Co.
1866-1897 (Nowlan & Co. continued in business until 1926).

Martin Noxon
Edenton, NC 1800-1814

John Noyes
Boston, MA 1695-1715

Morillo Noyes
Burlington, VT 1844-1878
Was in the partnership os Vilas & Noyes with William R. Vilas 1844-1848 and then M. Noyes & Co. with Horation and Julius M. Noyes 1848-1855.


Nussbaum & Hunold
Providence, RI  1903-1920
Founded by Benjamin Nussbaum, Joseph Nussbaum, and Walter Hunold.  Manufacturers of sterling novelties and jewelry.

Frederick Nusz
Frederick, MD 1818-1842


Enoch Hoyt Nutter / E. H. Nutter & Co.
Dover, NH 1826-1871
Silversmith, jeweler, and watchmaker.  Was in the partnership of E.H. Nutter & Co. 1846-1871.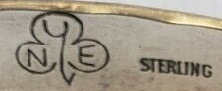 Stuart Nye Silver Shop
Asheville, NC  1933-Present
Founded by Stuart Nye. Ralph and Annie Morris joined the business in 1947, and Nye retired in 1948.  Currently owned by Ralph D. Morris, Jr.
Website.