Porter to Putnam


Franklin Porter
Danvers, MA 1925-1940s
Maker of handwrought flatware, holloware and jewelry in the Arts & Crafts style.


Frederick Wadsworth Porter / F.W. Porter & Co.
Springfield, VT 1845-1875
In the partnership of Cook, Porter & Co. with George Washington Porter and Selden Cook 1848-1850.  Later partnered with William H. Wheeler as F.W. Porter & Co. 1854-1875.


Henry Chester Porter / H. Porter & Co.
New York, NY 1820-1840
Went by H. Porter & Co. 1830-1840.


Joseph S. Porter
Canandaigua, NY 1808-1811 and Utica, NY after 1811-1837 and
1850-1862.
In the partnership of Porter & White with Philo White 1808-1809.  In the partnership of Barton & Porter 1811-1816. Partnered with Richard Huntington 1817-1837.  Sold his business in 1837 and worked as a general merchant.  Worked again as a silversmith and jeweler 1848-1862, first for H.S. Bradley then on his own again in 1850.

Frederick Jerome Posey
Shepherdstown, VA (now WV) c. 1842 and
Hagerstown, MD 1843-1864

Potter Studio
Cleveland, OH 1915-1928
Succeeded by The Potter-Bentley Studio.

The Potter-Bentley Studios
Cleveland, OH 1928-1933
Horace E. Potter and Gurdon W. Bentley. Succeeded by Potter and Mellen, Inc.

J.O. & J.R. Potter
Providence, RI c. 1849-1850
John O. Potter and James R. Potter.

Horace E. Potter
Cleveland, OH 1897-1907
Well known maker of handwrought sterling wares in the Arts & Crafts style.  Founder of the Potter Shop 1908-1915 and Potter Studio 1915-1928.  Was in the partnership of Potter-Bentley Studios with Gurdon W. Bentley 1928-1933 then in the partnership of Potter and Mellen until his death in 1948.
Niles Potter
Westerly, RI c. 1825-1850

John Potwine
Boston, MA c. 1719-1737; Hartford, CT 1737-1761; Coventry, CT c. 1762-1766; and East Windsor, CT c. 1768-1792
Was in the partnership of Potwine & Whiting with Charles Whiting c. 1761.

Abraham Poutreau
New York, NY c. 1725

Henry Power
Poughkeepsie, NY 1822-1864
Worked with his son Henry R. Power under the name of H. Power & Son 1848-1852.


Pratt & Reath
Philadelphia, PA 1851-1862
Dundas T. Pratt, Benjamin B. Reath, and William G. Billin.

Azariah Pratt
Marietta, OH 1788-1821 and Athens Co., OH 1821-1835


Edward P. Pratt
Chillicothe, OH c. 1827-1828 and 1830-1866; and
Cincinnati, OH 1828-1830
In the partnership of Pratt & Beard in Chillicothe in 1828.  In Cincinnati, he was a partner in the firm of Pratt, Stretcher and Beard 1828-1829; Stretcher leaving the firm in 1829 to become Pratt & Beard, but the business was dissolved later that year.

Katherine Pratt
Dedham, MA  c. 1915-c. 1940
Member of the Boston Society of Arts & Crafts.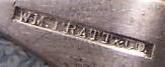 William Pratt / W. Pratt & Co.
Boston, MA 1835-c. 1885
In the firm of Wm. Pratt & Brother 1844-1849.  Went by W. Pratt & Co. 1855-1873.

Wm. Pratt & Brother
Boston, MA 1844-1849
William and Joseph Pratt.

William T. Pratt
Black Rock, NY 1826 and New York, NY 1828-1829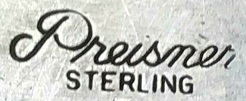 Preisner Silver Co.
Wallingford, CT 1935-1990
Makers of sterling and silverplate holloware.  Went out of business in 1990.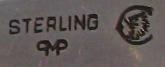 Pressed Metal Products
Vancouver, BC c. 1925-Present

Henry Prescott (Prescot) b. 1781 d. 1810
New York, NY 1803-1806 and Springfield, MA 1806-1810

Presto Cigarette Case Corp.
North Attleboro, MA 1920s-1930s
Makers of sterling and silverplated cigarette cases and other small items.

James Bond Preston
Alexandria, VA 1817; Baltimore, MD 1818-1829; Norfolk, VA 1830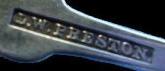 Lafayette W. Preston
Castleton, VT 1844-1882 with a branch store in Fair Haven, VT
Formed a partnership with his son George L. Preston as L.W. Preston & Son 1878-1882.

Edward Prevear
Amherst, MA 1840-1849; Lynn, MA 1849-1858; and
Leominster, MA 1858-1895
Was in the partnership of Prevear & Harrington with Samuel Harrington 1841-1842.


John Price
Newark, NJ 1840-1860

Philip Price, Jr.
Philadelphia, PA 1812-1825

Prill Silver Co.
New York, NY 1936-Present
Succeeded Edward Prill, Inc; became Prill Silver Co. c. 1940.  Makers of sterling and silverplated holloware.

Warren Prior (1811-1909)
Fayetteville, NC  1834-1887
In the partnership of Campbell & Prior with John Campbell 1834-1836.  Upon Prior's retirement in 1887, his son took over his business as Warren Prior & Son.

Warren Prior & Son
Fayetteville, NC 1887-c. 1914
Primarily a retailer.

Nathaniel Langdon Proctor
Oxford, CT c. 1840

Prouhet & Witt
St. Louis, MO 1857-c. 1862
Hyppolite Prouhet and Thomas D. Witt.

Emile Profilet
New Orleans, LA 1822 and Natchez, MS 1823-1866
Succeeded by his son, J. Queg Profilet, in 1866.

Hyppolite Prouhet
Union, KY 1850-1854 and St. Louis, MO 1854-c. 1878
In the firm of Prouhet & Witt 1857-c. 1862. Silversmith and watchmaker.

Pryor Mfg. Co.
Newark, NJ 1909-c. 1915
Became a part of B.M. Shanley, Jr., Co.

Charles Pryse
Baltimore, MD and Washington, DC 1824-1834
Was in the partnership of Lanphier & Pryse in Washington, DC,
c. 1827-1829.

Samuel B. Purple (1814-1857)
Columbus, GA 1844-1856 and Northfield, MA 1856-1857
In the partnership of Foster & Purple 1844-1845.

Thomas Purse (1776-1823)
Baltimore, MD 1795-1799 and 1805-1810; Winchester, VA
1799-1805; and Charleston, SC 1810-1822

Edward Putnam
Boston, MA 1822-1830
In the partnership of Putnam & Low with John J. Low 1822-1828.

Fayette H. Putnam (1819-1857)
Worcester, MA c. 1830-1856

John S. Putnam (1814-1899)
Albany, NY 1835-1836 and Buffalo, NY 1836-1881
Partnered with William S. Wright as the firm of Wright & Putnam c. 1836.