Steen to Story

Haldor S. Steen (b.c. 1817)
Rochester, NY c. 1842-1856 and Honolulu, HI c. 1859-1860


Henry Steig
New York, NY and Provincetown, MA 1950s-1973
Modernist studio jeweler.

Wilhelmina P. Stephan
Cleveland, OH c. 1905-c. 1930
Member of the Boston Society of Arts & Crafts.

Gotthelf Stephanis (George Stevens)
Shelburne and Halifax, Nova Scotia 1784-1787; and
New York, NY 1787-1799

Joseph Lawrence Stephens
Paris, KY  1827-c. 1830


The Sterling Silver Manufacturing Co.
Providence, RI 1909-1932
Makers of sterling flatware, holloware, and souvenir spoons.  Their flatware dies were acquired by the Saart Bros. Co.
See flatware patterns.

Sterling Silver Souvenir Co.
Boston, MA c. 1890-c. 1915
Makers of souvenir spoons.


Stern Bros. & Co.
New York, NY
Founded by Nathan Stern and his sons Leopold and Isador Stern in 1871.  In 1912 the company split off into two separate companies:
Stern Bros. & Co. which handled diamond cutting and Goldsmith, Stern & Co. which carried on the thimble and jewelry manufacturing business.
The Stern Bros. anchor mark was used by Goldsmith, Stern & Co. after the split.

Louis Stern & Co.
Providence, RI 1898-1950

Stevens & Lakeman
Salem, MA 1819-1830
A partnership between John Stevens and Ebenezer K. Lakeman.

C.A. Stevens & Co.
New York, NY  1866-1870
Cyrus A. Stevens and Ernest E. Evers.
Silversmiths and jewelers.

George W. Stevens & Co.
Chicago, IL 1856-1862

John Stevenson
Pittsburgh, PA 1847-1874
In the partnerships of John Stevenson & Son 1866-1868 and
John Stevenson's Sons & Co. 1868-1874.

Phineas Stevens
Kennebunk, ME 1813-1860

Charles G. Stewart
Charleston, VA (now WV) 1820-1864
Was in the partnership of Charls G. Stewart & Son with his son
George L. Stewart 1847-1849.

George W. Stewart
Lexington, KY 1843-1852


John Stewart
New York, NY c. 1790-1791 and Baltimore, MD c. 1810

Moses Peck Stickney
Newburyport, MA c. 1820; Boston, MA c. 1822; New York, NY c. 1827;
and New Orleans, LA 1830-1832
Silversmith and watchmaker

B.H. Stief Jewelry Co.
Nashville, TN  1890-1969
Jewelers and silversmiths.  Business originally founded by Bruno Hugo Stief in 1865.  Stief's business was incorporated upon his death in 1890 as the B.H. Stief Jewelry Co.  It was acquired by Traditional Jewelers of America, a division of Gordon Jewelers, in 1969 and renamed Stief-Jaccards.


The Stieff Co.
Baltimore, MD 1904-1979
Founded as the Baltimore Sterling Silver Co. in 1892.  The name
was changed to The Stieff Co. in 1904.  Acquired the Schofield Co. in 1967.  Became the Kirk-Stieff Co. in 1979 when Stieff purchased S. Kirk & Sons, Inc.
See flatware patterns.
Stiles & Baldwin
Northampton, MA 1791-1792
Samuel Stiles and Jedediah Baldwin.
George K. Stiles
Corland, NY 1834-1850 and Brooklyn, NY 1850-1873

Barton Stillman
Westerly, RI c. 1825-1837

George B. Stocking
Tacoma, WA c. 1892-1896
Used the trademark name Rhododendron for souvenir spoons.

Philo W. Stocking
Wheeling, VA (now WV) c. 1833-1839

Stockman & Pepper
Philadelphia, PA 1828-1831
Jacob Stockman and Henry J. Pepper.


Jacob Stockman
Philadelphia, PA 1817-1856
In the partnerships of:
Peters & Stockman 1817-1819.
Stockman & Pepper 1828-1831.
J. Stockman & Co. 1844-1845.
J. Stockman & Son 1851-1853.

Stockton & Fuller
Erie, PA c. 1850-1855
A partnership between H.P. Stockton and A.N. Fuller.

Noah Stoddard
New York, NY 1818-1847
In the partnership of Stoddard & Martin in 1826 then Stoddard & Mitchell in 1827.

Stodder & Frobisher
Boston, MA 1816-1825
Jonathan Stodder and Benjamin C. Frobisher.

Robert Stoll
New York, NY 1886-Present
Medal and badge maker, now a holloware division of Wayne Silversmiths.

Pierre M. Stollenwerck
New York, NY 1794-1797, 1804-1810, and 1814-1821 and Philadelphia, PA 1811-1821
Stone & Ball
Syracuse, NY 1853-1869
Seymour H. Stone and Calvin S. Ball.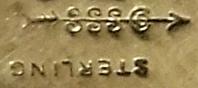 Stone Sterling Silver Co.
New York, NY c. 1896-1900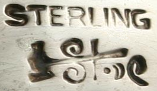 Arthur J. Stone / Stone Silver Shop / Stone Associates
Gardner, MA  1901-1958
Founded by Arthur J. Stone, who is called the Dean of
American Silversmiths.  Sold to Henry Heywood in 1937
and the name was changed to The Stone Silver Shop then
shortly later to Stone Associates.  Makers of handwrought
sterling flatware and holloware.

Hubbard Goldsmith Stone
New York, NY 1839-1895
Was in the partnership of Stone & Landon with John E. Landon 1848-1849.

Storm & Wilson
Poughkeepsie, NY 1802-1818
Abraham Gregorius Storm and James Wilson.

A.G. Storm & Son
Poughkeepsie, NY 1823-1826
Abraham G. Storm and son John A. Storm.

Abraham G. Storm
Albany, NY and Poughkeepsie, NY 1802-c. 1840 4
Was a partner in several businesses:
Storm & Wilson with James Wilson 1802-1818
A.G. Storm & Son with son John Adriance Storm 1823-1826

Storr & Mortimer
A highly regarded London firm that operated a branch in New York, NY, 1839-1843.  The branch was short lived due to Congress imposing a high import duty on imported silver in 1842.

Storrs & Chubbuck
Utica, NY 1847-1849
Henry S. Storrs and Samuel W. Chubbuck.

Storrs & Cooley
Utica, NY 1827-1839
A partnership consisting of Charles Storrs, Oliver Blanchard Cooley, Horace P. Bradley, David S. Rowland and Erastus Charles Starin.

Frederick Storrs
Chaplin, CT  1820-1850
Spoon manufacturer.


Nathan Storrs
New York, NY c. 1791 and Northampton, MA 1791-1833
A partner in the businesses of Baldwin & Storrs with
Jedediah Baldwin 1792-1794 and Storrs & Cook with
Benjamin Ely Cook 1828-1833.


Simeon Norman Story
Worcester, MA 1838-1895