Uncas to Upton


Uncas Mfg. Co.
Providence, RI 1911-Present
Manufacturing jewelers.

Underhill & Vernon
New York, NY 1786-1787
Thomas Underhill and John Vernon.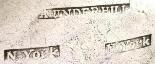 Andrew Underhill
New York, NY 1780-1788


Unger Bros.
Newark, NJ  1880-1919
Founded by Herman and Eugene Unger.  Makers of Art Nouveau sterling flatware, holloware, jewelry, vanity items and novelties which are highly sought after today.  Production of their Art Nouveau articles stopped in 1910, and sterling production stopped entirely in 1914.
See flatware patterns.