Watson to Welch

Watson & Briggs Co.
Attleboro, MA c. 1934

Watson & Brown
Philadelphia, PA 1836-1838

Watson & Hildeburn
Philadelphia, PA 1839-1849




Watson & Newell / Watson Co.
Attleboro, MA 1880-1955
Watson & Newell was founded by Clarence L. Watson and Fred A. Newell who worked together at Cobb, Gould & Co. (1874-1880).  They expanded to Watson, Newell & Co 1886-1895, incorporating in 1895 to the Watson, Newell Co.  The company was renamed c. 1915 to the Watson Co.  With showrooms in Chicago, New York and San Francisco, Watson became a major manufacturer of sterling flatware and holloware.  The mark of the flag with the H in it was for flatware made by their subsidiary company, the Mechanics Sterling Co.  Watson also made a line of sterling holloware for Wilcox & Wagoner beginning about 1900 bearing the sword and laurel wreath mark.  When Wilcox & Wagoner folded c. 1905, Watson continued producing with this mark until 1929.  The crown/W/lion mark was used 1910-1950.  Watson was acquired by Wallace Silversmiths in 1955; their souvenir spoon dies went to J.T. Inman.
See flatware patterns.


Edward Watson
Boston, MA  c. 1815-1839
Was in the partnerships of Davis & Watson in 1815, Davis, Watson & Co. c. 1822-1825, and Watson & Brown 1836-1838.



James Watson
Philadelphia, PA 1820-1872
Was in the partnerships of Hildeburn & Watson 1830-1833 and Watson & Hildeburn 1839-1849.

Joseph H. Watson
Warrenton, VA 1844-1880
Silversmith and jeweler.

Watsoncraft
A division of the Watson Co. c. 1915-c.1935

Watts & Butler
Philadelphia, PA 1867
James Watts and James P. Butler.


Watts & Harper
Philadelphia, PA 1859-1862
James Watts and Henry Harper.




James Watts
Philadelphia, PA 1832-1888
Involved in several partnerships:
J. & W. Watts 1839-1851
Watts & Harper 1859-1862
Watts & Butler in 1867
Watts & Son with James A. Watts 1882-1886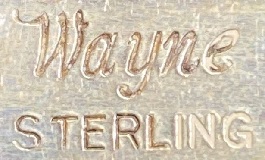 Wayne Silversmiths
Yonkers, NY  1947-Present
Primarily manufacturing jewelers.


David Weatherly
Philadelphia, PA c. 1805-1850



Emmor Trego Weaver
Philadelphia, PA 1808-1833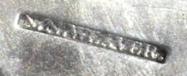 Nicholas Nicholas Weaver
Utica, NY c. 1811-1821 and 1834-1847; Cleveland, OH 1822-1834
and 1847-1853
Was in the partnership of N.N. & W. Weaver with Wilhelm Weaver in 1817.  Formed partnerships with his sons on two separate occasions as N.N. Weaver & Son, first with Joseph Shoemaker Weaver 1846-1847 and later with William Nicholas Weaver 1849-1853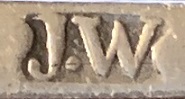 Joshua Weaver
West Chester, PA  c. 1795-1815


Web Silver Company
Philadelphia, PA  1950-Present
Acquired the dies of the Weidlich Sterling Spoon Co. in 1952.  Makers of sterling flatware, holloware, and novelties.  Now a part of Salisbury Sterling.
Website.
See flatware patterns.
Edward Webb
Boston, MA c. 1706-1718



George W. Webb / Geo. W. Webb & Co.
Baltimore, MD 1830-1890
Worked as Geo. W. Webb & Co. 1864-1886.  Silversmith and jeweler.


James Webb
Baltimore, MD 1810-1844
Partnered with his son James Webb, Jr. as James Webb & Son
c. 1835. Was in the partnership of Webb & Johannes with
John M. Johannes 1827-1835.

Weber-Wagner & Benson Co. / J. Wagner & Sons
New York, NY  c. 1915-1927 and 1950-1965
Makers of sterling and silverplated holloware.  This mark used by Weber-Wagner Co. c. 1915; the Weber-Wagner & Benson Co. 1915-1927; and J. Wagner & Son, Inc. 1950-1965.  During the years 1927-1950 the company changed names to the A.L. Wagner Mfg. Co. then A.L. Wagner & Son and used a different maker's mark.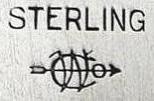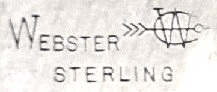 Webster Co.
North Attleboro, MA  c. 1894-Present
Founded by George K. Webster as G.K. Webster & Co. in 1878. Became the Webster Co. c. 1894.  Makers of miscellaneous sterling flatware items, holloware, vanity items and novelties along with a small line of silverplate items.  Became a subsidiary of Reed & Barton in 1950, operating as an independent company.  Purchased the Frank W. Smith Silver Co. in 1958.
See flatware patterns.

A.A. Webster & Co.
Brooklyn, NY 1887-1939
Silversmiths, jewelers, and opticians.

E.G. Webster & Bro.
Brooklyn, NY 1865-1868 and 1873-1886


E.G. Webster & Son
Brooklyn, NY 1886-1928
Founded by Elizur G. Webster and his son Fred H. Webster. The
business was sold to International Silver in 1928 and moved to
Meriden, CT, where it was combined with the Barbour Silver Co.
Primarily silverplaters.


Henry Lamson Webster / Henry L. Webster & Co.
Providence, RI 1831-1864
Webster went into partnership with Jabez Gorham in 1831 as Gorham & Webster.  William G. Price was added to the firm in 1837 and the name was changed to Gorham, Webster & Price.  Gorham sold out his interest in the business in 1841.  Webster then went on to work for N. Harding & Co. and then Gorham & Son.  He joined forces with Joseph B. Knowles as the partnership of H.L. Webster & Co. 1852-1864 with Samuel J. Ladd joining the company in 1859.

Simon Wedge, Sr. (1774-1823)
Baltimore, MD 1798-1823

Marion Weeber-Welsh
New York, NY 1940s-1990s
Industrial jewelry and silverware designer.  Also designed whimsical celluloid buttons in the 1940s.

John M. Weidemeyer
Baltimore, MD 1800-1801; Fredericksburg, VA c. 1806-1822;
and Charlottesville, VA 1823-1830
In the partnership of Weidemeyer & Peacock with Richard G.
Peacock, Jr. 1818-1819.

Weidlich Bros. Mfg. Co.
Bridgeport, CT  1901-1950
Founded by L.W. Weidlich.  Primarily makers of silverplated goods, they also made sterling trophies.  Affiliated with the Weidlich Sterling Spoon Co.


Weidlich Sterling Spoon Co.
Bridgeport, CT  c. 1915-1950
Makers of sterling flatware, holloware, and souvenir spoons.
Weidlich's pattern dies were acquired by the Web Silver Co. in 1852.
See flatware patterns.

Louis Weidemeyer
Lynchburg, VA 1817 and New York, NY 1828


Jedediah Weiss
Bethlehem, PA 1815-1865

Weizenegger Bros.
Newark, NJ 1904-c. 1942


John Welch
Fincastle, VA c. 1811-1827
Silversmith and clockmaker. Was in the partnership of Welch & Aunspaugh with Charles Aunspaugh c. 1822-1827.