Yates to Yurman

William P. Yates (1813-1894)
Elmira, NY  c. 1841-1885
In the partnership of Yates & Kimball 1842-1843. Silversmith and jeweler.

Elijah Yeomans (1738-c. 1794)
Hadley, MA 1771-1783; Middletown, CT 1792; Hartford, CT c. 1794
Silversmith and clockmaker.


York Silver Co.
New York, NY  c. 1950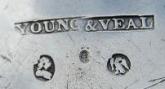 Young & Veal
Columbia, SC  1837-1838
Edward Young and John Veal, Sr.





Alexander Young / A. Young & Co.
Baltimore, MD c. 1799-1806 and Camden, SC 1807-1856.
A branch location was added in Columbia, SC c. 1841 under the name of A. Young & Co. (aka A. Young & Son) and operated by Young's son Edward; it closed when Edward died in 1848.

Charles Young
Chambersburg, PA 1791-1833

James T. Young (1825-1892)
Petersburg, VA 1853-c. 1890
Was in a partnership with Thomas Nowlan under the name of Nowlan & Young 1853-1854.  Joined with his brother, William Young, as J.T. Young & Co. 1871-c. 1880.

Nicholas E. Young
Saratoga Springs, NY  1839-1846

Levi Young / L. Young & Co.
Bridgeport, CT 1824-1827

Samuel Young
Winchester, VA c. 1809-1811 and
Charles Town, VA (now WV) 1811-1851

William Young (b. 1783 d. 1860)
Hagerstown, MD 1795-1804 and Staunton, VA 1806-1839

William M. Young
Mount Vernon, OH  1854-c. 1880
Was in partnership with Joshua Hyde as Hyde & Young
1854-1868.  The firm's name was changed to Young, Stone & Hyde 1868-1872 when Levi Stone joined the business.

C. Youngs
Bridgeport, CT 1824-1827

David Yurman
New York, NY 1980-Present
Primarily a high end jewelery manufacturer.