Rogers to Ryerson

Rogers & Cole
New Britain, CT  1830-1832
Asa H. Rogers and John A. Cole, spoon makers.

Rogers & Wendt
Boston, MA c. 1850-1856
Augustus Rogers & John R. Wendt. Precursor to John R. Wendt & Co.

A. Rogers Jr. & Co.
New Britain, CT 1832-1834 and Hartford, CT 1834-1838
Founded by brothers Asa and William Hazen Rogers.



Daniel Rogers (1735-1816)
Ipswich, MA c. 1756-1816

F.B. Rogers Silver Co.
Shelburne Falls, MA 1883-1886 and Taunton, MA 1886-c. 2000
Renamed the West Silver Co. 1887-c. 1911.  Became a division of National Silver Co. in 1955.  Sold to Boardman in 1985, and manufacturing was moved to Europe and Asia.  Primarily silverplated goods, some sterling.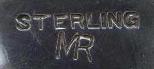 Margaret Rogers
Boston, MA 1910s
Arts & Crafts era silversmith. Received the Society of Arts & Crafts Boston Medal of Excellence in 1915.


Wm. Rogers Mfg. Co.
Hartford, CT 1865-1990s
One of the companies to form International Silver in 1898.
See flatware patterns.

William Rogers & Son
Hartford, CT 1857-1861 and 1869-1873
William Hazen Rogers and son William Henry Rogers.  Precursor to the Wm. Rogers Mfg. Co.



William Hazen Rogers (1801-1873) / Wm. Rogers & Co.
Hartford, CT 1825-1862
Was in the partnerships of:
Church & Rogers with Joseph Church 1825-1836.
Asa Rogers, Jr. & Co. with brother Asa Rogers 1832-1834.
Wm. Rogers & Co. with Simeon S. Rogers 1841-1854.
Rogers & Mead with Asa Rogers & J.O. Mead 1845-1846.
Rogers Bros. with Asa Rogers and Simeon Rogers 1847-1853.
Wm. Rogers & Son with William Henry Rogers 1857-1861 and 1869-1873.
Rogers, Smith & Co. 1857-1861.
Rogers & Bro. 1858-1873.
William Rogers Mfg. Co. 1865-1869.

William Henry Rogers (1832-1896)
Hartford, CT
Was a partner in the firm of William Rogers & Son with his father William Hazen Rogers 1857-1861 and again 1869-1873.  He partnered with Edward R. Fifield 1863-1865 and then worked for the William Rogers Mfg. Co. 1865-1869.  Rogers worked as a silverplater 1873-1878, making goods for the Meriden Britannia Co.  From 1878 to 1895 he oversaw the flatware manufacturing division of Simpson, Hall, Miller & Co.

Rokesley Shop
Cleveland, OH c. 1904-1920s
Louis Rorimer, Mary Blakeslee, and Ruth Smedley. Makers of Arts & Crafts style flatware, holloware, and jewelry.

William Rollinson
New York, NY  c. 1785

Ronson Corp.
Newark, NJ 1886-Prsent
A well known cigarette lighter manufacturer, they made a sterling lighter /cigarette urn set named Jubilee in 1954.

Root & Chaffee
Pittsfield, MA 1840-1849
A partnership between Washington M. Root and Frederick A. Chaffee.

Charles Boudinot Root
Raleigh, NC 1843-1860

L.M. & A.C. Root
Pittsfield, MA c. 1830-1840
Brothers Laurens M. Root and Aurelius C. Root.

W.M. Root & Bro.
Pittsfield, MA c. 1856
Washington McDonough Root and ?

Washington McDonough Root
Pittsfield, MA 1840-1875
Was a partner in a number of firms:
Root & Chaffee 1840-1949.
Root, Chaffee & Baird with Frederick Chaffee and Prentice Baird 1849-1850.
W.M. Root & Bro. c. 1856.
W.M. Root & Co. with Charles C. Childs c. 1858-1859.
W.M. Root & Son with Wellington S. Root c. 1873-1875.

George Payne Rose
Dundee, NY c. 1849-1852 and Elmira, NY c. 1860-1875
Silversmith and jeweler.

Alexander Coffin Ross
Zanesville, OH c. 1831-1864
Silversmith, jeweler, and watchmaker.  In the partnership of Hill & Ross c. 1833-1837.  Wrote the song "Tippecanoe and Tyler Too" in 1840.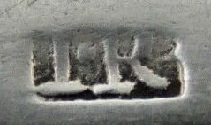 John Ross (1756-1798)
Baltimore, MD  1790-1798


Nelson Roth
Utica, NY 1837-1858

Herman Roth
Larchmont, NY 1940s-1950s

Pierre Casimir Rouyer
New Orleans, LA 1850-1884
Silversmith and noted as a maker of Confederate coat buttons.

Edward Rowse, Jr.
Augusta, ME 1839-1882
Rowse's business was continued under his name after his death in 1882 by his widow until c. 1892.

Royal Family
A trademark name of the Saben Glass Co. in use since 1949 for
sterling handled flatware and sterling mounted glass holloware.

Royal Manufacturing Co.
Detroit, MI c. 1885-1908
Primarily makers of silverplate and nickel silver goods, also made sterling vanity goods and novelties.

Roycroft
East Aurora, NY 1895-1938
A community of artists founded by Elbert Hubbart working in the Arts & Crafts style, producing goods such as furniture, lamps, books, and metalwork.

Hudson Roysher
Los Angeles, CA c. 1935-1975

Rudd & Scudder
New York, NY 1840 and 1847-1850
Joseph Rudd and Egbert Scudder.

C.F. Rumpp & Sons
Philadelphia, PA 1890-1959
Founded by Carl F. Rumpp, who founded the business alone in 1850. Manufacturers of pocketbooks and leather goods, many with silver mountings.


Alexander Rumrill / A. Rumrill & Co.
New York, NY 1831-1840
Stopped silversmith work in 1840; continued in the jewelry
and retail business going by A. Rumrill & Co. 1869-1878.
Succeeded by Jacques & Marcus in 1878.


Charles Rumsey
Salem, NJ 1819-1841

William Ruser
Beverly Hills, CA 1947-1969
Called the "Jeweler to the Stars," Ruser made a series of jewelry lines featuring freshwater pearls which are highly collectible today.

Daniel Russell (b. 1698 d. 1750)
Newport, RI c. 1719-1750

George Russell
Philadelphia, PA 1833-1875

Jonathan Russell (Russel)
Ashford, CT c. 1795-1805, Geneva, NY 1807 and Auburn, NY
1807-1817


Moody Russell
Barnstable, MA c. 1715-1761

John Wesley Ruth
Shelbyville, TN 1858-1906

Richard Rutter
Baltimore, MD 1790-1798
In the partnership of Rice & Rutter with Joseph Rice in 1794.

Lucas Ryerson
York, PA c. 1800-1840 and Wayne, NJ c. 1850
Silversmith and clockmaker.