Ladd to Lefevre


Horatio Homer Ladd / H.H. Ladd & Co.
Manchester, VT 1844-1880
Silversmith, jeweler, and watchmaker.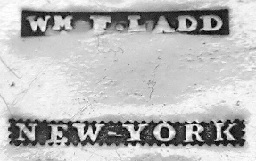 William F. Ladd (1807-1889)
New York, NY  c. 1827-1889
Was in the partnership of Gelston, Ladd & Co. with George S. Gelston 1839-1844.


Jacob Ladomus
Philadelphia, PA 1843-1884


Lewis Ladomus / L. Ladomus & Co.
Philadelphia, PA  1844-1878
Had the business of L. Ladomus & Co. 1853-1878.  Silversmith and watchmaker.

Vincent Laforme & Brother
Boston, MA 1850-1854
Francis Laforme and Vincent Laforme.


Vincent Laforme
Boston, MA 1844-1877/1893
Joined with his brother Francis J. Laforme in the firm of
Vincent Laforme & Brother 1850-1854. After 1877 Laforme
worked as a silverplater. Upon his death in 1893, his son
Elmer Laforme continued the plating business until 1909 when
it was bought by Hallet & Smith.


Ebenezer Knowlton Lakeman
Salem, MA 1819-1857
In the partnership of Stevens & Lakeman with John Stevens
1819-1830.



Matthias Lamar (Lamaire)
Philadelphia, PA c. 1782-1803


Walter Lampl Co.
New York, NY 1921-1959
Primarily a jewelry manufacturer, they also made some
sterling novelties.

John Lamson
Boston, MA 1816 and Baltimore, MD 1817-1818

Americus Lancaster
Philadelphia, PA 1839-1858 and 1866-1892


Tobias D. Lander (d. 1870)
Newburgh, NY 1826-1843 and New York, NY c. 1845-1870
In the partnerships of Jennings & Lander with Oscar Jennings
1846-1853 and Squire & Lander 1853-1855.

Lane & Bros.
Clarks Mills, NY c. 1840

David H. Lane
Gloucester, MA c. 1855-1881

Edward Lang
Salem, MA c. 1764-1786

Jeffrey Lang
Salem, MA c. 1730-1758

Nathaniel Lang (b. 1757 d. 1824)
Salem, MA c. 1780

Richard Lang
Salem, MA 1754-1809

Anthony Langford, Jr.
Portsmouth, NH 1827 and Boston, MA 1835-1865
Was a partner in the firm of T.A. Davis & Co. in 1835.

E.P. Langworthy & Son
Ballston Spa, NY c. 1814

Elisha Perkins Langworthy
Ballston Spa, NY 1795-1823
Was in the partnership of E.P. & L.B. Langworthy 1812-1814 and then E.P. Langworthy & Son c. 1814.

Alphonse La Paglia
Meriden, CT
Noted designer and silversmith, he set up his shop with the assistance of International Silver in 1952.  Upon La Paglia's sudden death in 1953, his widow continued the shop for a short while, eventually moving it to International's facilities.  Much of the shop's wares were purchased by Georg Jensen, and the Jensen name was added to these items.


Frank H. LaPierre / LaPierre Manufacturing Co.
New York, NY c. 1886-1897 and Newark, NJ 1897-Present
Founded by Frank H. LaPierre c. 1886; incorporated in 1896 as the LaPierre Mfg. Co.  Makers of sterling vanity items and novelties. Became a division of International Silver in 1929.

James E. Latimer
Philadelphia, PA 1813-1822

Ralph Lauren
1995-Present
Sterling and stainless flatware made by license agreement for the famous fashion designer.
See flatware patterns.


William Lawler
St. Louis, MO 1842-1846; New Orleans, LA 1846-1854;
and San Francisco, CA 1854-1881

F. Walter Lawrence
Newark, NJ and New York, NY 1889-1929
Maker of handwrought sterling flatware, holloware, and jewelry, F. Walter Lawrence also retailed sterling wares made by others and added his mark to theirs. Two cousins joined in him 1913, the company was incorporated, and the letters "Inc." were added from that point forward to Lawrence's mark.

Martin M. Lawrence
New York, NY 1832-1840

Leach & Bennett
Utica, NY 1856-1858
Almon Leach and L.M. Bennett.

Leach & Bradley
Utica, NY 1832-1835
Ebenezer Leach and Horace S. Bradley.

Leach & Davies
Utica, NY 1835-1840
Ebenezer Leach and Thomas Davies.

Almon Leach (1823-1901)
Utica, NY 1850-1897
In the partnership of Hawley & Leach with Horace Hawley 1853-1856 and then in the firm of Leach & Bennett with L.M. Bennett 1856-1858. The mark shown is from a spoon retailed by Leach.

Charles Leach
Boston, MA 1789-1792


John Leacock
Philadelphia, PA 1751-c. 1782

Thomas B. Leavenworth
Buffalo, NJ c. 1849-1850, Detroit, MI 1850-1876; and
Central City, SD c. 1880-1881


Lebkuecher & Co.
Newark, NJ 1896-1918
Founded by Arthur E. Lebkuecher, Frank A. Lebkuecher, and
Charles C. Wientge. Went by the name Francis A. Lebkuecher & Co. 1912-1918.  Acquired by The Eleder Co. 1918 which became the Eleder-Hickok Co. in 1922, although they continued to use the Lebkuecher mark. Eleder-Hickok merged with the Matthews Co. to become Hickok-Matthews Co.  Makers of sterling holloware and novelties.


Lebolt & Co.
Chicago, IL 1899-1983
Founded by J. Myer LeBolt as a manufacturing jeweler, a silversmith's shop was added in 1912 and was later managed by John LeBolt, the founder's son.  Makers of handwrought sterling flatware and holloware.

Lee & Bro.
Buffalo, NY 1852-1857
Charles Timothy Lee and Oliver Lee.

Lee & Wilkinson
Mansfield, OH 1864-c. 1875
John A. Lee and Edward Wilkinson.

J. Lee
Middletown, CT  c. 1790-1800


Samuel Waters Lee (b. 1795 d. 1861)
Providence, RI 1815-1819 and Rochester, NY 1822-1851
Was in the partnerships of Burr & Lee with Ezekiel Burr
1815-1819 and Scofield & Lee with Salmon Scofield in 1822.

Gideon Howard Leeds
Philadelphia, PA 1840-1842

Charles Lefavour
Lynn, MA 1841-1860 and Boston, MA c. 1863

John Felix Lefevre
Philadelphia, PA 1806-1813
In the partnership of Lefevre & Gravelle with Rene Gravelle
1810-1811.